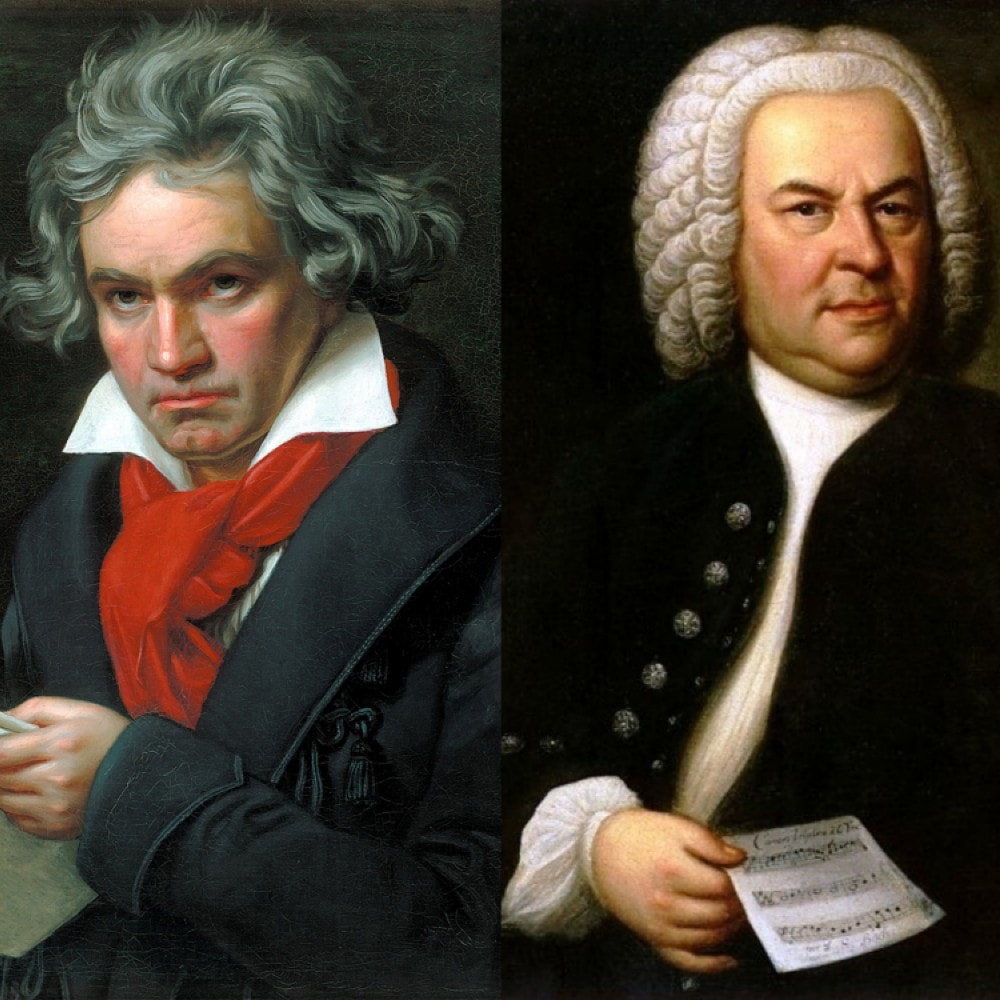 Foods and drinks can cross geographical, temporal, and cultural divides. But have you ever thought that they could fuel creativity too? It seems that particularly one beverage did it by igniting creative sparks in two of the greatest classical music composers of all time. Arguably, coffee played a major role in enabling Johann Sebastian Bach and Ludwig van Beethoven to write beloved compositions, Brandenburg Concertos and Fur Elise, respectively. Let's find out more about these legendary coffee connections.
The Coffee Cantata by Bach
The 18th century was the time of the very first coffee-meets-classical music association. Bach once famously stated that he felt like a "dried-up piece of roast goat" without his morning coffee. His love of a cup of joe even made the Baroque composer write a mini-opera about coffee. Named 'Coffee Cantata,' the musical piece tells the story of a father and his coffee-obsessed daughter. The father tries to convince his daughter to give up the drink and even bribes her to get married instead of indulging in coffee. However, the clever girl outwits her father by inserting a clause in her marriage contract that will allow her to brew coffee at her own will. This coffee opera was quite controversial for its time and was first performed in the 18th century in Leipzig, Germany, where indulging at a coffee shop was a fashionable diversion.
The Coffee Love of Beethoven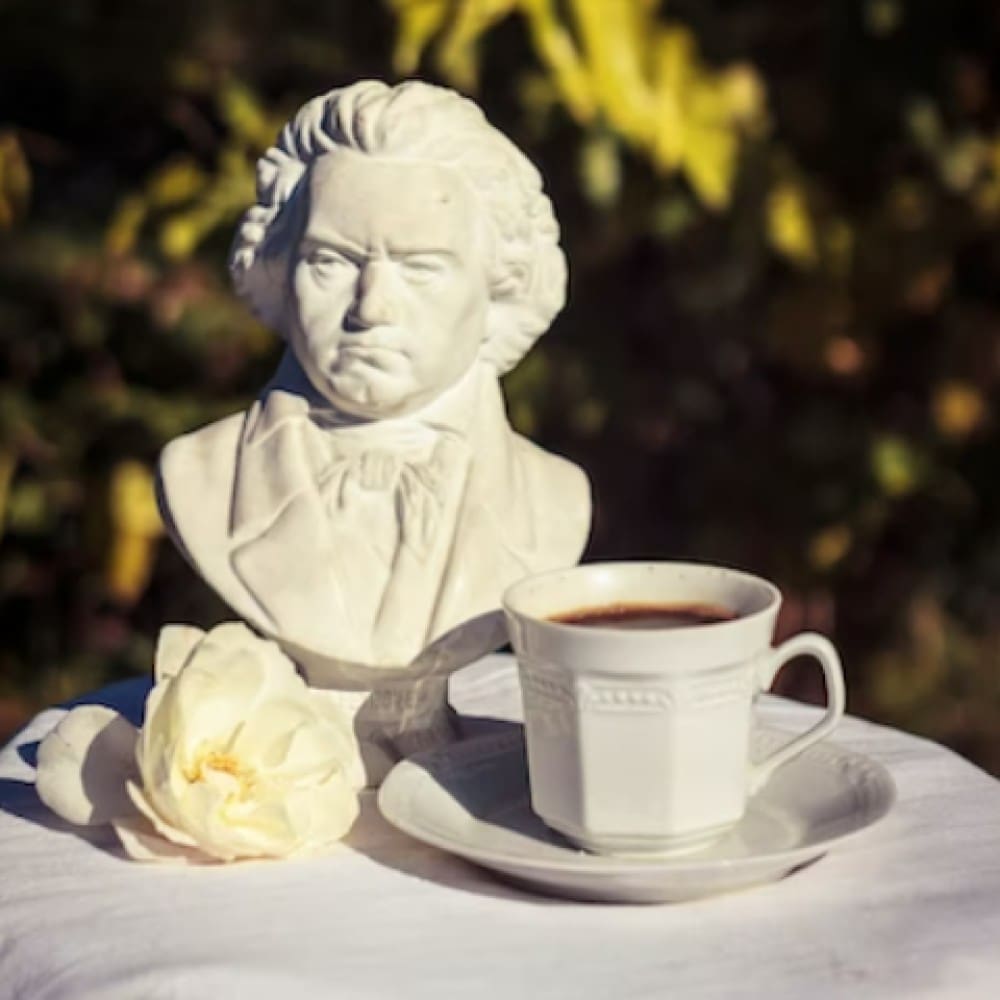 While coffee served as a creative inspiration for Bach, a few decades later, it shaped the everyday routine of Beethoven. Beethoven dealt with deafness from 28 years of age and, possibly for this reason, possessed a keen sense of taste, specifically for his coffee. According to Beethoven's biographer Anton Schindler, coffee was the "indispensable item" in the maestro's diet. In his book Beethoven, as I Knew Him, Schindler wrote that the composer used to drink coffee regularly for breakfast, which he prepared in a glass coffee maker. Also, he used to estimate 60 whole beans to a cup and often counted them manually instead of taking the usual route of measuring them by weight. Schindler also noted that Beethoven often visited coffee houses near his home. He always used the back doors to enter to sit in a private room. Any visitor willing to meet him was sent to the private room, where he shared cups of coffee with them. As per Schindler, this was one of Beethoven's habits that never changed.
Kate Hudson Has Adopted Two Pit Bull Puppies
It seems Kate Hudson had her hands full this Christmas because the actress shared some exciting news on social media. Apparently, she has adopted two Pit Bull puppies who will share her Los Angeles home as part of her family. The two adorable puppies joined her and her boyfriend Danny Fujikawa, as well as her three kids, Ryder, Bingham, and Rani.
Kate Hudson Shared a Photo of Her and Her Two Pit Bull Puppies
The 41-year-old actress shared snapshots of herself and her two new puppies on her Instagram account. In the pictures, Kate Hudson is clearly embracing the holiday spirit with novelty sunglasses and Christmas pajamas. The doggies can be seen wriggling in her arms and trying to lick her face. She commented that she could not say no to the little babies who needed a home for Christmas and was very happy with her decision.
Kate Hudson is apparently very supportive of dog rescue initiatives. Her fans were also thrilled by the news and responded with hundreds of reassuring comments. Many described Pit Bulls as one of the best dog breeds, and some even shared their own experience with rescued puppies of the breed. According to one of the fans, Pit Bulls have a big, sweet personality and are great with kids
Some of the fans predicted that the two puppies would stay with Kate permanently because she would never be able to give them up, while others pointed out how Pit Bulls are very misrepresented but are, in fact, loyal and great for snuggling.
Goldie Hawn Was Asked If Kate Will Marry the Father of Her Third Child
Recently, Kate has been put under pressure to reveal if she will be marrying her boyfriend Danny. Fujikawa is the father of her youngest child and has been with Kate since 2017. Kate's mother, Goldie Hawn, was recently asked in an interview what she thought about the speculation. She said that her children did get married, pointing out how her sons were both very happily married, and Kate tried marriage once already. She said Danny was a most amazing man but had no idea whether he and her daughter would marry. Hawn pointed out that people try marriage all the time, and sometimes it doesn't work.