A Tough Childhood
Eldred Gregory Peck was born in La Jolla, California, on April 5th, 1916. His parents were Gregory Pearl Peck and Bernice "Bunny" Mae. However, all wasn't well in the Peck household, as his parents separated when Gregory was only five years old.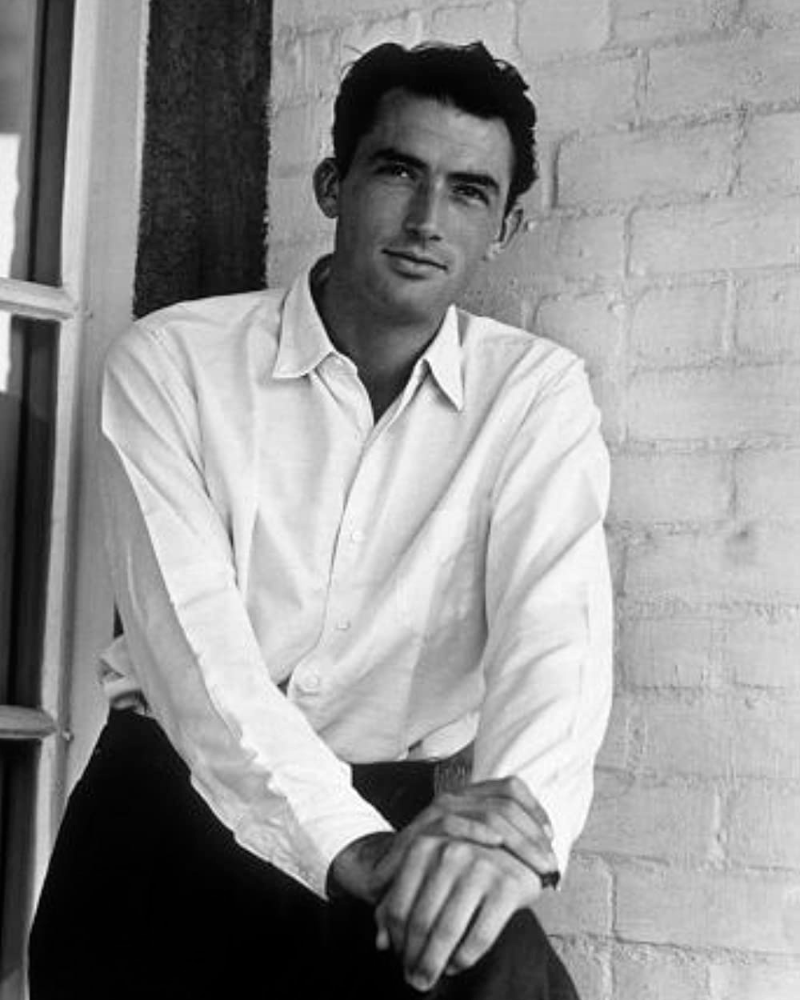 In his youth, Gregory had been sent to live with his maternal grandmother in Los Angeles. He lived with her and attended St John's Academy.
Introduction to the Movies
Gregory Peck was introduced to the movies at a young age by his grandmother, who took him to see one every week. His first foray into the film was a pretty traumatic experience!
When he was nine, Gregory and his grandmother went to watch The Phantom of the Opera. The image of the Phantom, as well as his grandmother's scream at seeing the Phantom's face, stayed with Gregory long after the movie was over. It's a wonder this horror-filled experience didn't deter him from his future goals.
Back in San Diego
After Gregory's grandmother passed away when he was 14, he moved back to San Diego to stay with his father. He finished his schooling there and enrolled at San Diego State University.
However, since he had ambitions to become a doctor, Gregory transferred to the University of California, Berkeley. The 6'3″ man was quite a sight at Berkeley. He was a part of the university's rowing crew. Gregory, then an English major and pre-med student, was also quite popular due to his deep and modulated voice.
Foray Into Acting
Gregory Peck participated in a public speaking course before trying acting. His acting coach encouraged him to pursue it as he saw in Gregory the perfect addition to the University's theater group.
During his senior year, Gregory appeared in five plays, including a stint as Starbuck in Moby Dick. It turned out to be the turning point in Peck's life, and according to him, it made him into a human being.
Onto New York
Once it was clear to Peck that the stage was his calling more than medicine, he packed his bags and forayed into the only city he knew he could make it big in — New York City.
He skipped out on his graduation and dropped the name Eldred, formally becoming Gregory Peck. With just $160 in his pocket and a letter of introduction, he marched on to conquer the world of Broadway.
The Early Days of Struggle
During his early days in New York, Peck faced many struggles like every other starting actor. His array of odd jobs to make ends meet included being a barker, tour guide, and model, amongst others.
After two years of struggle in New York, he finally began his stage career in 1941 with the play The Doctor's Dilemma. His Broadway debut came the next year as the lead in Emlyn William's The Morning Star.
The First Film
Gregory Peck might be remembered as a big star, but his first movie was anything but a hit. He starred in the 1944 romance movie The Days of Glory under the direction of Jacques Tourneur.
Even though the film flopped at the box office, producers started taking notice of the powerhouse that Peck promised to be. During the making of the movie, director Jacques Tourneur also helped Peck unlearn his formal theater training and adapt to how things are done in a film.
The Big Break
Peck's magic wasn't hidden for long. His second movie, The Keys of Kingdom, released the same year, showed Peck as a religious leader looking back on his life. His character underwent the feat of transforming from age 20 to 80 throughout the course of the movie.
He gained widespread recognition for his role, even getting nominated for an academy award. The movie became Peck's stepping stone to stardom, and offers started pouring in.
Nominations Upon Nominations
In the following years, Gregory Peck became a star in his own right with his choice of roles and movies, most going on to be big hits.
He also collected three more nominations at the Academy Awards for Best Actor for movies The Yearling (1946), Gentleman's Agreement (1947), and Twelve O'Clock High (1949). He also never lost touch with his theater roots, co-founding a theater company in 1947.
Peck's First Family
Peck married Greta Kukkonen in October 1942, but sadly the marriage didn't have a happy ending. The two separated 13 years later, in 1955, after a marriage fraught with tension.
Peck had three sons with Kukkonen, Jonathan, Stephen, and Carey Paul. The separation was final a day before New Year's Eve in 1955, and Peck's next love story, it turned out, was right around the corner.
The Next Decade
Throughout the 1940s, Peck had established himself as a national success, but his star still needed to reach its full potential. The '50s brought with them a string of new movies and worldwide fame.
The decade saw Gregory Peck dabble in westerns, playing a commander, a captain, a writer, and whatnot. He also dabbled into comedy for the first time, and the move paid off tenfold for the actor.
A Roman Magic
In 1953, Peck starred alongside relative newbie Audrey Hepburn in the romantic comedy Roman Holiday. Peck was initially concerned about the part since his role as journalist Jor Bradley was more of a supporting role to Hepburn's European princess.
However, director William Wyler managed to persuade the actor with the promise of an exceptional Roman experience. Not only did Peck agree to the part, but he also insisted on putting Hepburn's name with his own on the poster. The movie became a commercial success, with Hepburn winning the Oscar for Best Actress and bringing accolades to both actors.
A Second Love Story
Around this time, Peck also met the woman who would become his second wife. Just before he departed for Rome for the movie's shooting, Peck met with French reporter Veronique Passani.
He asked her out six months later, and the two were wed the day after Peck's divorce from his first wife was final. Peck's second marriage fared much better than his first, and they remained together until Peck's passing almost 48 years later.
Second Generation of Acting
Peck had two kids with his second wife, Anthony and Cecilia. Cecelia Peck became an actress, director, and producer, earning a Golden Globe nomination in her career.
Peck's grandson, through his son Stephen, Ethan Peck, also followed in his footsteps and is an actor. He's best known for playing Spock in Star Trek: Discovery and its subsequent spin-off.
A Dangerous Set
Not all was easy for this actor when it came to set life. Peck returned to Moby-Dick in 1956 for a movie adaption, this time assaying the role of Captain Ahab. However, the theme of danger and fear surpassed the plot and moved on to the sets.
The cast and crew had to brave strong winds and currents while filming off the coast of Ireland. Despite many people suffering injuries and the harsh conditions of the environment, Peck's performance was lauded by critics.
The Role That Made Him Unforgettable
By 1962, Peck had established himself as a formidable actor with worldwide fame. But it turned out that his most significant role was yet to come despite being in the industry for 20 years.
In 1962, Gregory Peck starred as Atticus Finch in the movie To Kill a Mockingbird, an eponymous movie adaption of Harper Lee's Pulitzer Prize-winning novel. And the rest, they say, is history.
Peak Success
Peck's portrayal of the honest lawyer and father, Atticus Finch, won hearts, praise, and awards. His performance brought him his fifth and last Oscar nomination for Best Actor. Lucky for him, it also got him his first win!
The movie lives on today as one of the greatest movies to have ever been made, and Finch became the most significant movie hero of the 20th century. The film became Peck's biggest hit, and the role of Finch was one he believed was the closest he came to playing himself on screen.
A Strategic Actor
One of Peck's most brilliant abilities was his pick of movies. He became one of the first stars who didn't bend to the studio system that was the de rigueur at the time and refused to sign with any one studio.
Instead, he signed non-exclusive contracts with studios and remained a freelancer. He became one of the few actors who not only managed to avoid typecasting but also had the power to command a million-dollar salary.
Macho Man
Throughout his career, Peck appeared in many actions and westerns. This was mainly thanks to his large and brooding 6'3″ stature. This included movies like Cape Fear and How the West Was Won.
His natural height and stature led him to be not only a part of many action movies but also many fight scenes. But unlike most of his colleagues, Peck did most of his stunts by himself, often refusing to use a stunt double.
A Well-Dressed Fellow
Peck made quite an impression with his acting and with his fashion sense. For movies like Roman Holiday and To Kill a Mockingbird, the dashing actor wore suits and wowed the audience in formal attire.
Such were his looks and charms that he turned the heads of many and even managed to get admitted to the International Best Dressed List Hall of Fame in 1983.
Artistic Pursuits
Peck proved to be an artist himself and a great patron of the arts. From 1967-1970, the actor served as the Academy of Motion Pictures Arts and Science President. Gregory Peck was also the Founding Chairman of the American Film Institute and an inaugural National Council on the Arts member.
He devoted himself to raising funds for various causes, including the Motion Picture and Television Fund. For his service to the public, he received the Jean Hersholt Humanitarian Award in 1967.
The Highest Honor
Peck was an outspoken man when it came to his beliefs and landed on the wrong side of many community leaders. But his philanthropic nature and efforts were noticed.
In 1969, he was conferred with one of the highest honors that can be awarded to a civilian in the United States. He has also received Lifetime Achievement Awards from the American Film Institute and the Screen Actors Guild.
Rooted in Culture
Peck had always shown himself to be a kind and involved actor. Even amidst his stardom, Peck always remembered his traditional roots and that his ancestors originally hailed from Ireland.
Peck often traveled to Ireland, enjoying family reunions with his cousins and establishing scholarships at the Irish Film School for students. He was awarded an honorary doctorate in literature by the National University of Ireland in Dublin for his contribution.
A Guinness Fan
During his frequent travels to his ancestral country, Peck became a fan of a famous Irish drink — Guinness. Not just an average fan, the dark Irish stout became Peck's drink for most occasions.
So much was his adoration for the Irish beverage that he even had a Guinness tap installed in his home so he could have a glass whenever he desired.
Horse Enthusiast
Peck enjoyed many other pastimes besides acting, and one of his greatest hobbies was horses. These creatures seemed very close to the actor's heart, and Peck ensured his love was visible.
Not only did he star in many films featuring horse riding, but he also owned a thoroughbred named Different Class, whom he entered in the 1968 Grand National Horse Race in Aintree, England. The horse, just like his owner, performed amazingly and finished in third place.
A Remake
Peck had the honor to even star in movies that have created lasting impacts on directors and went on to be remade. In 1962, the actor starred as lawyer Sam Bowden in the thriller Cape Fear.
The movie went on to be remade in 1991 by none other than esteemed director Martin Scorsese. While Peck and his co-star Robert Mitchum couldn't reprise their lead roles, they managed to carve their place in the film with other side roles.
The Final Act
Peck had more or less retired, traveling the world and engaging with his fans, when he returned for a last hurrah in 1998 for a miniseries adaptation of one of his famous movies, Moby Dick.
For this adaption, Peck played the role of Father Mapple, and his portrayal wowed audiences and critics alike. It also fetched him a Golden Globe award in 1999. Peck was also offered the role of Grandpa Joe in the 2005 adaption of Charlie and the Chocolate Factory but passed away before he could accept.
Goodbye
At 87, after a long and fulfilling career that touched millions of people, Gregory Peck breathed his last on June 12th, 2003. He passed away while at his residence with his wife Veronique at his side.
Actor Brock Peters, whose character Tom Robinson was defended by Atticus Finch in To Kill a Mockingbird, read his eulogy at the service. Many famous personalities were present, including his previous co-star Lauren Bacall and singer Michael Jackson.
His Legacy
The Peck Family continued the legacy of the great actor by establishing the Gregory Peck Award for Cinematic Excellence in 2008. The award honored a director, actor, or producer's life's work.
Initially, the award was presented in Peck's ancestral home in Dingle, Ireland, but since 2014 has been given at the San Diego International Film Festival. The award recipients include Laura Dern, Patrick Stewart, and Alan Arkin.
Remembering Gregory Peck
Gregory Peck will forever be entwined with the branches of Hollywood as one of the greatest actors to have ever lived and a significant influence on the industry. His work and his memory live long after he has passed on.
Peck's ability to do justice to all his roles was a marvelous feat, especially his essaying of the role of Atticus Finch, for which he stated he put in everything he had learned in 46 years of living in that character. It paid off, and Peck became an unshakable name in the book of Hollywood.
A Hemisphere Away & 40 Years Later, Mother & Daughter Reunite
The 1970s were testing times for unwed women in South Korea. Their culture frowned on these women, and they and their children were eschewed by society. So, when a 22-year-old woman who wasn't married gave birth to a baby girl, she had to be given up for adoption. The baby found her way with the Cook family from Murray, UT, and it wouldn't be for another four decades until she will be reunited with her birth mother once more.
An Unbelievable Story
The girl, Carrie Pace, is all grown up today and has three kids of her own. She works for a criminal defense law firm, which played a key role in helping her find her birth mother. Carrie visited South Korea for the first time in October 2016. She fell in love with Seoul, her birthplace, the culture, the people, and the language. That's when she knew she had to come back and find her biological mother. There was a tiny problem, however. She didn't speak Korean at all.
Finding Her Birth Mother Was Far From Easy
As soon as her first trip to Korea ended, Carrie got on her laptop and started the search of her life. She was overwhelmed with questions, and the intimidating South Korean bureaucracy made things extra difficult. Thanks to her background in law, she was able to look into South Korea's strict privacy laws.
Right When She Was About to Quit…
Carrie got help from two Korean organizations and got a Korean mentor as well to help guide her through her search. All documents containing her mother's name were blurred due to privacy concerns, and it wasn't until the end of 2019 when she finally got her birth mother's name and hometown. Her mentor traveled there to find her and organized a conference call between the mother and daughter. Carrie barely remembers the conversation, as she was so shocked by what was happening.
On February 20th, they each flew to San Francisco for a reunion that was more than four decades in the making. Carrie's story is just another beautiful miracle that shows the power of not giving up.