Elizabeth Taylor and Conrad Hilton
This wedding was the joining of Hollywood royalty and a hotel heir. Elizabeth Taylor and Conrad Hilton's wedding occurred on May 6th, 1950, at the Beverly Hills Presbyterian Church.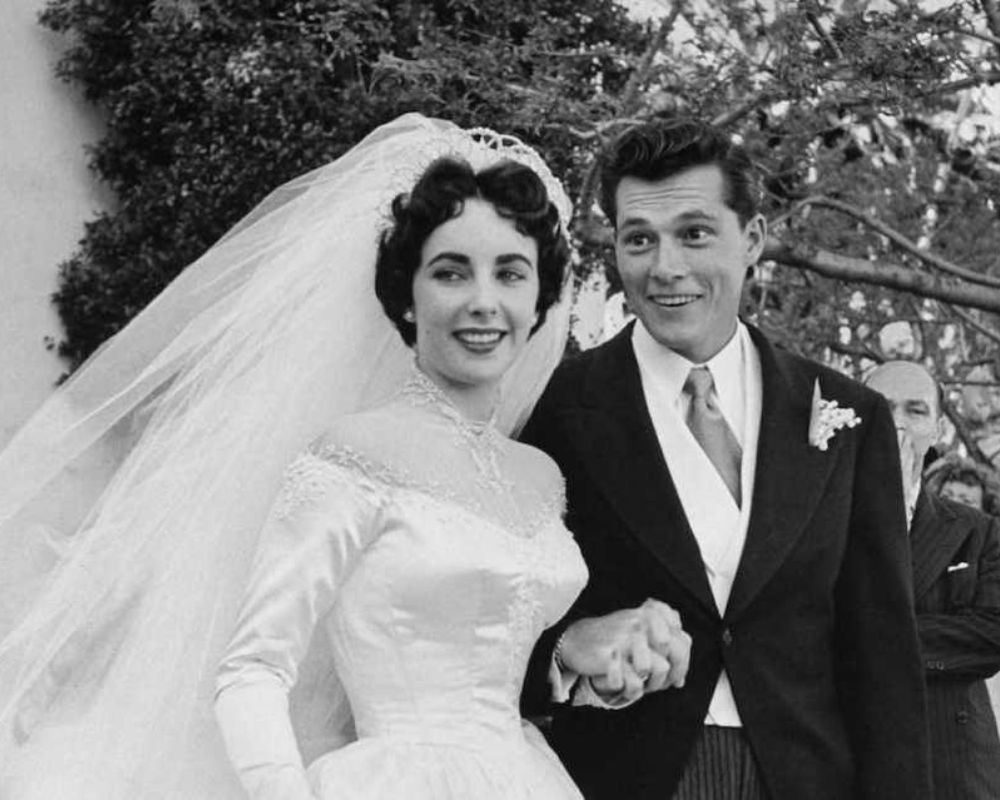 It was a grand affair attended by many Hollywood celebrities of the time. The bride looked stunning in a beautiful white satin wedding gown with a 10-foot train and a lace veil. The ceremony was followed by a lavish reception at the Beverly Hills Hilton Hotel, owned by Conrad's family.
Ingrid Bergman and Roberto Rossellini
On May 24th, 1950, yesteryear legend Ingrid Bergman and director Robert Rossellini tied the knot. The two met during the shooting of the Italian movie Stromboli, which Rossellini directed and Bergman starred in.
The marriage was shrouded in scandal and prompted Bergman to return to Europe for a long time. The couple even had three children together during their tumultuous and publicly scrutinized relationship.
Jean Simmons and Stewart Granger
Jean Simmons and Stewart Granger were a popular Hollywood couple who married on December 20th, 1950. The wedding was held in Tucson, Arizona, and was a private ceremony attended by close family and friends. Jean wore a simple ivory gown, and Stewart wore a navy suit.
The couple had worked together in several films, including Adam and Evelyne and Young Bess. They were also known for their roles in successful movies such as Spartacus and Ben-Hur.
Bette Davis and Gary Merrill
Bette Davis and Gary Merrill's marriage was a Hollywood love story that began with All About Eve, set in 1950. Bette played the lead role, and Gary was cast as her love interest.
They fell in love during the filming, and their on-screen chemistry translated into a real-life romance. They got married on July 28th, 1950. They worked on several films during their marriage, including The Catered Affair and Another Man's Poison.
Tony Curtis and Janet Leigh
Tony Curtis and Janet Leigh were a Hollywood power couple in the 1950s and '60s. They first met on the film set of Angels in the Outfield in 1951, and they married the following year. The couple went on to star in several films together, including Houdini and The Vikings.
Their daughter, Jamie Lee Curtis, also became a famous actress in her own right, known for her roles in films such as Halloween and True Lies.
Doris Day and Marty Melcher
Doris Day was one of Hollywood's most beloved actresses, known for her bubbly personality and captivating performances. She married Marty Melcher, a film producer, in 1951. During their marriage, Melcher produced many of Day's films, including The Pajama Game and Pillow Talk, which became some of her most iconic performances.
This was one Hollywood couple that managed to make their relationship work all the way to the very end, proving that love in the movie industry sometimes has a happy ending.
Roger Vadim and Brigitte Bardot
Roger Vadim and Brigitte Bardot's marriage and relationship were among Hollywood's most scandalous and tumultuous. The duo met when Bardot was relatively young. The actress caught the eye of the director after her debut in the French comedy Le Trou Normand (Crazy for Love).
The two married in 1952 when she turned 18. Vadim was a filmmaker and directed Bardot in several films, including And God Created Woman, which became a global sensation.
Ava Gardner and Frank Sinatra
Ava Gardner and Frank Sinatra's wedding took place on November 7th, 1951, at a friend's home in Philadelphia. It was a low-key affair, attended by only a few close friends and family members. They had worked together in the film The Killers and were known for their on-screen chemistry.
The actress donned a simple gray skirt suit for the wedding, while the famed rat pack member was in a traditional black tuxedo.
Pearl Bailey and Louie Bellson
Musicians Pearl Bailey and Louie Bellson had a loving and long-lasting relationship that spanned over three decades. They met in 1956 while performing at a concert in Canada, and they got married in London in 1959.
The groundbreaking couple passed on their musical prowess to their daughter, Dee Dee Bellson, who became a successful musician. Throughout their marriage, they performed together, supported each other's careers, and were known for their loving and affectionate relationship.
Elizabeth Taylor and Michael Wilding
Hollywood starlet Elizabeth Taylor and actor Michael Wilding's marriage was Taylor's second wedding. They met on the set of the movie The Conspirator and fell in love quickly. They married in London in 1952 in a much simpler wedding than Elizabeth's previous one.
They had two sons together, Michael Jr. and Christopher. The Butterfield 8 actress continued to act in successful movies during their marriage, including Giant and Raintree County.
Joan Collins and Maxwell Reed
Joan Collins and Maxwell Reed's marriage was a short-lived one. The duo got married when Joan was only 19 years old and had just begun her acting career. The British actor was the first of Collin's five husbands.
The actress went on to become one of the most iconic people in her profession during her time, known for her roles in films like The Girl in the Red Velvet Swing and the TV series Dynasty.
Tony Bennett and Patricia Beech
Tony Bennett and Patricia Beech were married for 21 years. They met in the late 1940s when Tony was a struggling young singer and Patricia was a dancer in New York City. They fell in love and married in 1952 at St. Patrick's Cathedral.
Their marriage resulted in two children together. Tony became one of the most successful and iconic singers of his time, known for his timeless classics like "I Left My Heart in San Francisco."
Eunice Kennedy and Robert Sargent Shriver
Eunice Kennedy and Robert Sargent Shriver were married for over 56 years and serve as a prime example of a successful union. They met while attending the University of Chicago, where they both were students. They got married in 1953 and went on to have five children together.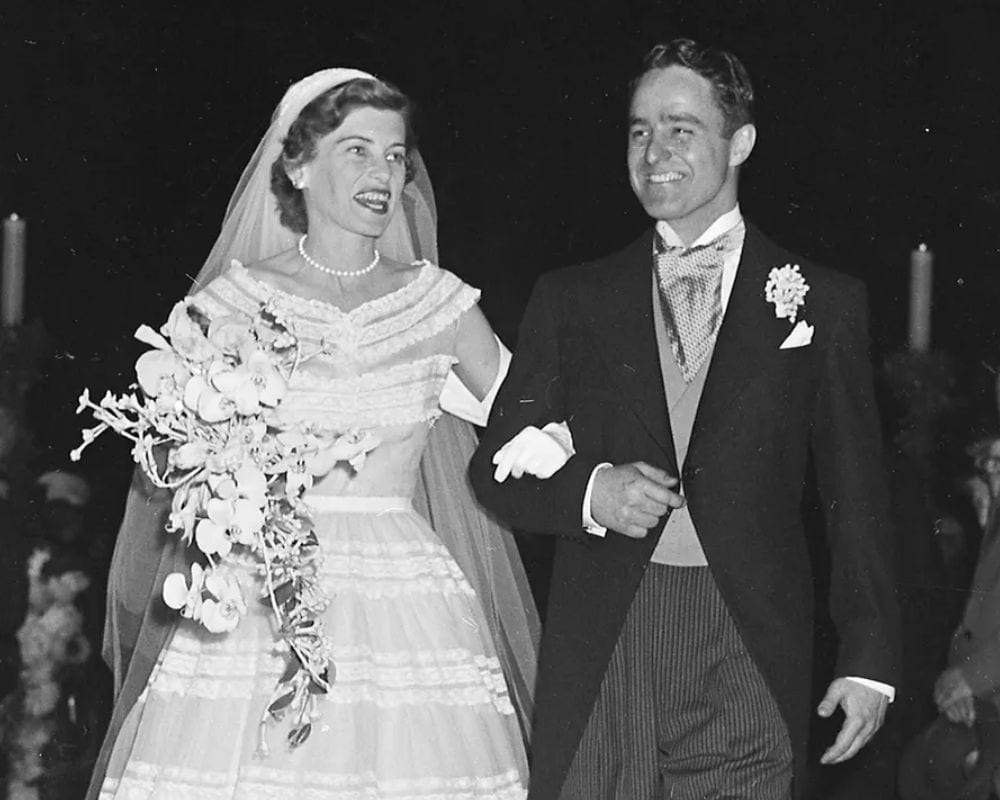 Kennedy was a passionate advocate for people and Shriver was a politician. They were known for their strong commitment to public service and their deep love and devotion to each other.
Rita Hayworth and Dick Haymes
Rita Hayworth and Dick Haymes married each other at the Sands Hotel in Las Vegas in 1953. Dick was Rita's fourth husband, and they met while working together on the film Down to Earth.
Hayworth is known as one of Hollywood's biggest stars, with an illustrious career that included movies like Gilda and Cover Girl. Dick was a popular singer and actor known for his smooth baritone voice. They worked together on the film My Gal Sal.
Audrey Hepburn and Mel Ferrer
Audrey Hepburn and Mel Ferrer's marriage was a glamorous union between two highly talented individuals. The duo met while working on the Broadway play Ondine and fell in love. They married in Switzerland in 1954 and even had a son together.
The iconic actress, known for her starring roles in classics like Roman Holiday and Breakfast at Tiffany's, as well as her humanitarian work later in life, and the multitalented Ferrer's partnership was creative and fruitful.
Marilyn Monroe and Joe DiMaggio
The marriage of Marilyn Monroe and Joe DiMaggio was one of the most iconic celebrity romances ever. It had everything – glamor, drama, and a lot of star power! The two married on January 14th, 1954, at San Francisco City Hall.
Their marriage was highly publicized, with a large crowd of fans and media gathered outside to catch a glimpse of the happy couple.
Kirk Douglas and Anne Buydens
Kirk Douglas and Anne Buydens were married on May 29th, 1954, in a small ceremony at the Westwood Memorial Park in Los Angeles. The couple had met in Paris while Kirk was filming Act of Love, and they fell in love almost immediately.
The legendary actors' marriage lasted over 65 years and was an excellent and long-lasting union. The two were known for their deep love and devotion to each other.
Anne Bancroft and Mel Brooks
Anne Bancroft and Mel Brooks were married on August 5th, 1964, in a private ceremony in New York City. The couple had met on the set of a TV show, and they fell in love quickly.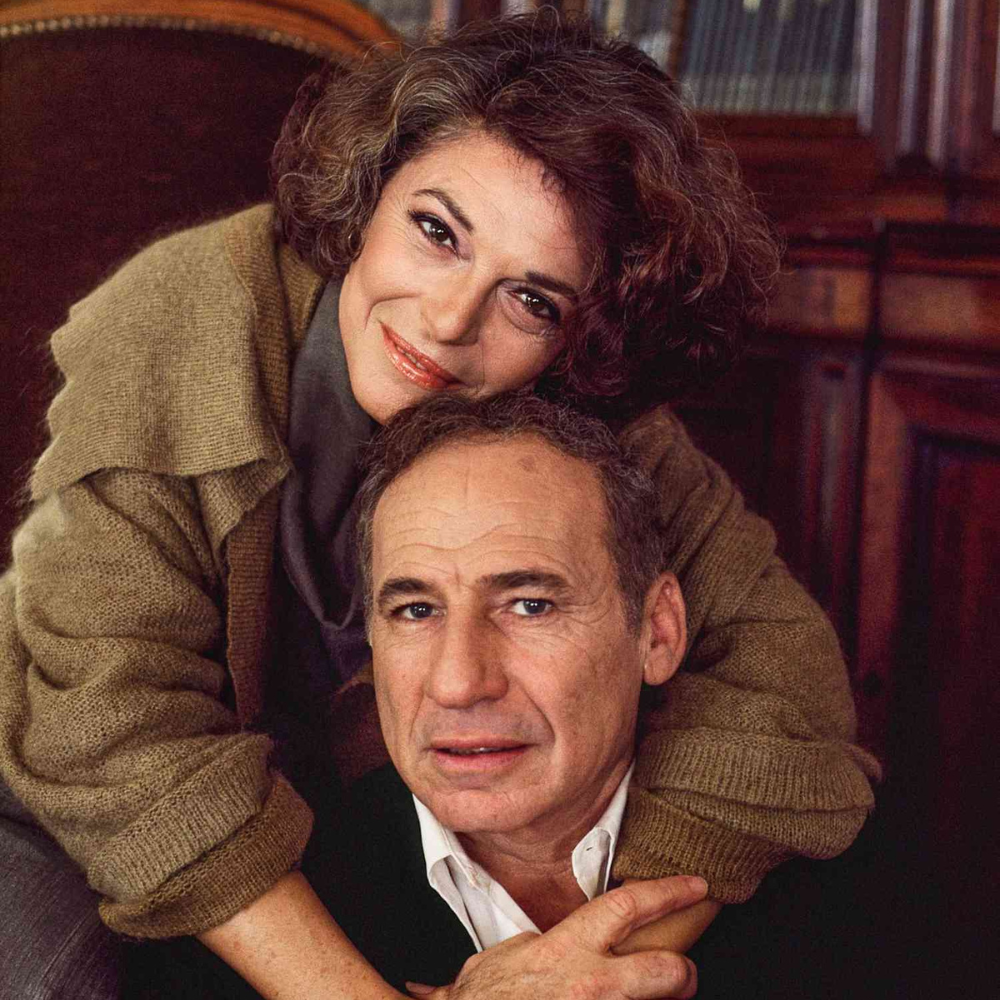 The Graduate actress and the legendary comedian were a constant source of support and love for each other throughout their marriage. Their love story has become one of Hollywood's most enduring.
Debbie Reynolds and Eddie Fisher
Debbie Reynolds and Eddie Fisher were one of Hollywood's most famous couples in the 1950s. They were married in 1955, and their marriage was highly publicized and celebrated by fans. Debbie was a beloved actress and singer known for her roles in movies like Singin' in the Rain, while Eddie was a famous singer and entertainer.
However, while the two powerhouses had all the makings of a legendary Hollywood couple, their union met a painful end that shocked fans and the media. The duo are parents to actress Carrie Fisher, the original Princess Leia.
Clark Gable and Kay Williams
Clark Gable and Kay Williams had a tumultuous relationship that began in the late 1950s. Kay was a wealthy socialite and former model, and she and Clark had a passionate and sometimes volatile romance.
Despite the controversy surrounding their relationship, the Gone With the Wind actor remained with his fifth wife until the end. Their relationship remains a fascinating, and often controversial, part of Hollywood history.
Joan Crawford and Alfred Steele
Joan Crawford and Alfred Steele were married in 1955, and their union was a source of stability and happiness for both. Alfred was a successful executive at Pepsi-Cola, and he and Joan fell in love quickly.
Together, they navigated the complexities of Hollywood and the business world, and their relationship was marked by mutual respect and admiration. However, the marriage was cut short by Steele's untimely passing. That said, their relationship still left its imprint as one to look up to.
Anita Ekberg and Anthony Steel
Anita Ekberg and Anthony Steel's marriage was a whirlwind romance that took Hollywood by storm in the 1950s. Anita was a stunning actress known for her role in the classic film La Dolce Vita, while Anthony was a dashing British actor. Together, they were a glamorous and beloved couple known for their parties and adventures.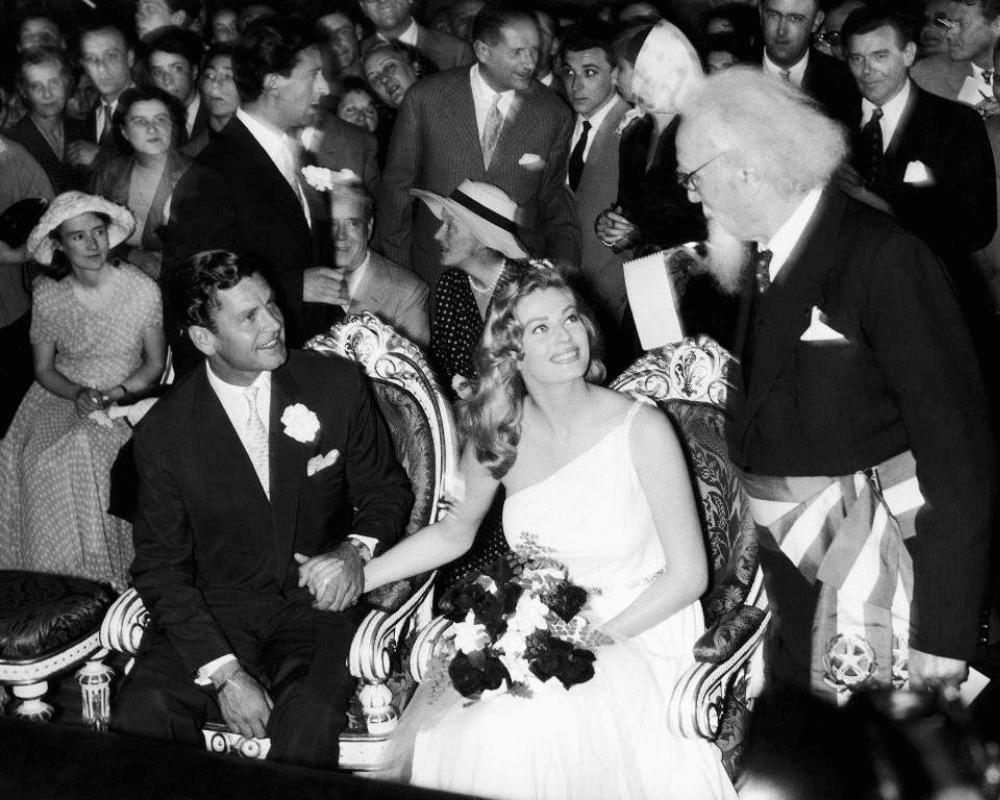 However, their marriage was not without its challenges. Despite that, their relationship was a shining example of Hollywood romance, complete with passion, drama, and excitement.
Willie Mays and Margherite Wendell
Willie Mays and Margherite Wendell were a beloved couple that weathered the ups and downs of life together. Willie was a legendary baseball player known for his speed and skill on the field, while Marguerite was a supportive and loving wife.
They met in 1954 and were married the following year. Together, they had two children and remained committed to each other even as Willie's fame and success grew.
Arthur Miller and Marilyn Monroe
On June 29th, 1956, Marilyn Monroe exchanged vows with playwright Arthur Miller. Unlike her previous marriage, this one followed a more traditional route. Marilyn wore a beautiful white sundress with a tulle veil.
The Hollywood star looked stunning as she tied the knot with Miller, who was already a well-known playwright at the time, having written works such as Death of a Salesman. Their wedding was a happy occasion, and Marilyn looked every inch the blushing bride as she embarked on this new chapter in her life.
Marlon Brando and Anna Kashfi
Marlon Brando and Anna Kashfi's relationship was a wild ride that was just as dramatic as any Hollywood movie. The two met on the set of The Mountain in 1956, and Brando was immediately smitten with Kashfi's fiery personality. They eloped in Mexico later that year, but their relationship was far from smooth sailing.
Brando and Kashfi's relationship was a rollercoaster of passion and intensity that kept fans on the edge of their seats despite the drama. It's no wonder their love story is still talked about, to this day!
Bing Crosby and Kathryn Grant
In 1957, Bing Crosby tied the knot with actress Kathryn Grant, marking his second marriage. Despite a significant age difference of almost 30 years, the couple remained together for 20 years. Together, they formed a formidable duo and were often seen in public, charming fans and admirers with their elegant and sophisticated style.
Despite the ups and downs of their long relationship, Bing and Kathryn remained committed to each other, proving that love knows no boundaries, including age.
Robert Wagner and Natalie Wood
Robert Wagner and Natalie Wood were one of Hollywood's most iconic and beloved couples of the 1950s. Their courtship was the stuff of fairytales, with Robert proposing to Natalie by placing a pearl and diamond ring in a glass of bubbly. They went on to star in multiple films, including The Silver Chalice and All the Fine Young Cannibals, showcasing their undeniable chemistry on screen.
Though their first marriage ended in divorce in 1962, they reconciled 10 years later and remarried on a yacht in front of their family and friends.
Henry Fonda and Baroness Afdera Franchetti
Henry Fonda was one of Hollywood's most beloved actors and had three marriages behind him when he met Baroness Afdera Franchetti. Their whirlwind romance began when he traveled to Italy for a film and met her at a dinner party. Despite the language barrier, they fell deeply in love and married in 1957.
Fonda acted in iconic movies like The Grapes of Wrath, 12 Angry Men, and On Golden Pond, while Franchetti was a socialite and a noblewoman.
Joanne Woodward and Paul Newman
Joanne Woodward and Paul Newman had one of Hollywood's most beautiful marriages. The two actors met in 1953 while working on a Broadway production and married in 1958. They starred in multiple films, including The Long, Hot Summer and Rachel, Rachel.
In a time when many Hollywood marriages were proving to be relatively short-lived, Woodward and Newman were known for their strong bond and commitment to each other, with a union that lasted more than five decades.
Sammy Davis, Jr. and Loray White
Sammy Davis, Jr. and Loray White tied the knot in style, surrounded by their Rat Pack friends, at the Sands Hotel in Las Vegas, a city where the group ruled the hearts of the people. The iconic entertainer had met Loray, who was a dancer, while performing in New York City.
They got married in 1958 and remained together until 1968. The couple had one daughter together, named Tracey Davis. Davis was known for her legendary performances on stage and screen.
Jayne Mansfield and Mickey Hargitay
Jayne Mansfield and Mickey Hargitay's wedding was a Hollywood spectacle in 1958. The bride wore a low-cut pink gown with a matching heart-shaped veil and carried a bouquet of pink roses.
The wedding was held in Beverly Hills, where dozens of fans and paparazzi gathered outside to catch a glimpse of the newlyweds. The reception was held at the famous Romanoff's restaurant, where guests dined on caviar.
Rita Hayworth and James Hill
Rita Hayworth's relationship with producer James Hill was her fifth marriage, and it was short. The couple tied the knot in a private ceremony at Rita's Beverly Hills home in 1958. Unfortunately, the marriage lasted only a few years, and they divorced in 1961.
Despite the end of their marriage, James Hill was instrumental in helping to revive Rita's career by producing some of her successful films like Separate Tables and Fire Down Below.
Dorothy Dandridge and Jack Denison
Dorothy Dandridge and Jack Denison met at his restaurant, the Club Bali, where she often performed. The couple dated for three years before tying the knot in 1959. They had a lavish wedding ceremony in Los Angeles, with hundreds of guests in attendance.
Dandridge wore a beautiful satin gown with a beaded bodice and a long train, while Denison looked dapper in a white tuxedo.
Elizabeth Taylor and Eddie Fisher
Elizabeth Taylor and Eddie Fisher's wedding was a highly-publicized event in 1959. Despite their relationship's controversy, the couple exchanged vows in a traditional ceremony at the Temple Beth Shalom in Las Vegas.
Elizabeth wore a green silk hooded dress, designed by Helen Rose, while Eddie opted for a white suit. Many Hollywood stars, including Frank Sinatra and Dean Martin, attended the Sands Hotel's reception.
Jacques Charrier and Brigitte Bardot
Brigitte Bardot tied the knot with French actor Jacques Charrier in a glamorous wedding ceremony in Deauville, France, in 1959. The couple had met while filming And God Created Woman and fell in love.
Brigitte was only 24 years old and wore a stunning pink and white gingham dress. Their marriage was short-lived, but they had a son named Nicolas-Jacques during their time together.
Eva Gabor and Richard Brown
Eva Gabor, known for her role on the TV series Green Acres, tied the knot for the fourth time with Richard Brown. The couple's wedding took place in Las Vegas at the Flamingo Hotel.
In the photos captured, the bride can be seen feeding cake to her new husband and his best man at the reception. Eva and Richard were married for six years, from 1956 to 1962.
Svetlana Beriosova and Mohammed Masud Raza Khan
British ballerina Svetlana Beriosova tied the knot with Mohammed Masud Raza Khan in a quiet ceremony at the registry office in London in 1959. The couple's wedding was thrust into the public eye when they inadvertently notified the press of their impending nuptials after applying for a marriage license.
Despite the media attention, the two remained together and built a life together in the following years. The busy professionals balanced their dynamic careers with their commitment to each other.
David Attenborough and Jane Elizabeth Ebsworth Oriel
David Attenborough and Jane Elizabeth Ebsworth Oriel were married in 1950 in Kew Green, London. They met while studying at the University of Cambridge where they were introduced by a mutual friend. David's career as a broadcaster took off while Jane focused on raising their two children and supporting her husband's work.
They remained married for over 47 years. Despite their busy lives, they always made time for each other and shared a deep love of nature and wildlife conservation.
Sidney Poitier and Juanita Hardy
In 1950, actor Sidney Poitier married model Juanita Hardy in an intimate ceremony in Tijuana, Mexico. The couple met in New York City, where Juanita worked as a model and Sidney started his acting career. Juanita would later become Sidney's assistant and manage his career.
The couple had four daughters together before their marriage ended in divorce in 1965. Despite the dissolution of their marriage, Sidney and Juanita remained close friends and raised their children together.
John Steinbeck and Elaine Anderson
Acclaimed author John Steinbeck and Elaine Anderson, an aspiring actress, were married in 1950. They first met when Anderson was hired to play a minor role in a film adaptation of Steinbeck's novel, The Red Pony.
Despite the 12-year age difference between them, they fell in love and tied the knot in Los Angeles. Steinbeck dedicated his novel East of Eden to Anderson, and she inspired many of the female characters in his works.
Rocky Marciano and Barbara Cousins
On December 31st, 1950, boxing legend Rocky Marciano tied the knot with his longtime girlfriend, Barbara Cousins, in a small ceremony in Brockton, Massachusetts. The couple had met while Marciano was still a struggling fighter, and they had been together through thick and thin.
Despite fame and fortune as the world heavyweight champion, Marciano remained devoted to his wife and family. Their enduring love story continues to inspire fans of both boxing and romance.
Judy Garland and Sidney Luft
On June 8th, 1952, legendary performer Judy Garland tied the knot with producer Sidney Luft in Hollister, California. The wedding was intimate, with only a few close friends and family members present.
The Wizard of Oz actress wore a beautiful off-the-shoulder dress with a long train, and Luft donned a fancy suit. The couple had a tumultuous relationship, but despite this, they stayed together for 13 years and had two children.
Clark Gable and Sylvia Ashley
The legendary Hollywood actor Clark Gable tied the knot for the fifth time with socialite Sylvia Ashley on April 21st, 1949. The couple's nuptials were held in Yuma, Arizona, with a few family and friends in attendance.
For Ashley, a British-born socialite, her marriage to Gable was her third. Gable and Ashley were known for their lavish lifestyle and love of travel, often jet-setting across the globe for vacations.
Roger Moore and Dorothy Squires
On July 6th, 1953, James Bond actor Roger Moore married Welsh singer Dorothy Squires in Jersey City. At the time of their wedding, Moore was 25 years old while Squires was 38. The couple had first met a year earlier when Squires was performing in London, and they quickly fell in love.
Their marriage was challenging due to the duo's burgeoning careers and busy schedules. Despite these obstacles, Moore and Squires remained married for over a decade before divorcing in 1968.
Gregory Peck and Veronique Passani
On December 31st, 1955, actor Gregory Peck married philanthropist Veronique Passani in a small ceremony in Paris. The couple met several years earlier in Los Angeles when Passani was a journalist. They began dating and quickly fell in love, despite their significant age difference.
Their marriage was a happy and long one. Passani was often seen accompanying the Roman Holiday actor to his film premieres and other public appearances.
These Classic Childhood Toys Are Worth A Ton Of Money
If you weren't playing with toys as a child, then what were you doing with your life? Let's face it, you probably threw away all those cuddly animals and Lego sets you used to play with. However, after seeing the prices of the following toys, you'll wish you hadn't.
Furby – $900
While Furbies are back, bigger and louder than ever, it's the classic versions that are raking in the real cash. As long as these big-eyed, furry friends are in decent condition, you can expect to sell a Furby on eBay for a whopping $900!
Gameboy Color – $1,700
If you grew up during the '90s and weren't spending hours on end playing on your Gameboy, then you were simply doing something wrong. While Nintendo has just about kept up with the video game times, there is something special about the simplicity of the Gameboy Color. With so many classic games to play on this handheld device, such as Pokemon, Super Mario Kart, and Tetris, who wouldn't want to buy one of these (albeit for $1,700 on eBay)?
Lego Sets – $24,000
There is no doubt that Lego sets are expensive when they are first released, nevermind years later. So imagine how much you might need to pay if you want one of the classic building block sets in your life. Not only has Lego seen something of a renaissance ever since The Lego Movie came out, but Star Wars has also seen a resurgence since Disney bought the rights to Lucasfilm. So what happens when you combine the Jedi franchise with Lego? That's right folks: Millennium Falcon Lego sets that have reached up to $24,000 on eBay!
Pokemon Cards – $10,000
As a kid, you might not have understood all of the values and properties on the Pokemon cards. However, there is no denying that those classic cards were beautiful to look at, especially the shiny ones. Who would have thought that these unassuming cards would end up fetching as much as $10,000 years later? Some of the most sought-after Pokemon are shadowless Blastoise and the shiny Charizard. It's not just complete sets that are fetching thousands of dollars, but also single cards, such as the 1995 Alakazam card ($7,500).
Hot Wheels – $125,000
You wouldn't expect a set of toy cars to fetch so much money. However, you would be proven wrong by certain Hot Wheels collections, which originally came out in 1968. Generally speaking, you can expect to earn a cool $3,000 for a standard dozen set of Hot Wheels cars. But there are also limited edition toys that are fetching even more than that. Take the Volkswagen Beach Bomb, for example, which has an estimated value of $125,000! Maybe it's the little surfboards hanging out the back that made the difference.
Tamagotchi – $3,000
Who didn't own a Tamagotchi back in the '90s? If you weren't responsible enough to take care of a real-life pet while growing up, then a Tamagotchi was a safer option. This little device enabled the owner to take responsibility for a virtual pet, which meant that you had to do all the things you would usually do with a pet. Most of these little gadgets fetch a couple of hundred dollars. However, there is one that ended up selling for a few thousand on eBay – the Bandai Original.
Lite Brite – $300
A kids favorite that spanned decades of usage, the Lite Brite was popular for a while after it was first released in the late-'60s. A very simple playset, all you had to do was stick colorful sticks in the holes and you could create some pretty good works of art. You could then light up the artwork for everyone to see. Nowadays, Lite Brites can be found on eBay, normally with a value of around $300. It is a great device to use to teach your kids outside of school hours.
Sega Genesis – $2,000
Even before the Super Nintendo Entertainment System came to be, there was the Sega Genesis, which was the original game console for a lot of people. With classic games such as Sonic the Hedgehog, this wasn't one of the traditional toys, but was certainly a must have for kids. While Sega and Nintendo battled it out for a long time, the Genesis has remained a valuable item in the online community, fetching as much as $2,000 per console.
Teddy Ruxpin – $500
One of the most interactive toys of its time, Teddy Ruxpin was the go-to solution for kids who struggled to fall asleep. This simple plush toy would soothingly talk, telling stories depending on the tape that was inserted into it. With an ability to blink, move its eyes and speak, this was the teddy that every child wanted. Nowadays, many collectors want to have a Teddy Ruxpin as their own and, while many fetch fairly modest prices, there are some that sell for $500!
Dear Diary – $200
When the digital diaries became a thing in the '90s, people were still unconvinced that pen and paper would become a thing of the past. While people still write this way today, there is no doubt that "Dear Diary" paved the way for other devices such as smartphones and tablets. There was also a version for kids, who would use it to keep secrets from each other (of course, that is one of the prime uses for a diary). They come up on eBay all the time for $200!
Moon Shoes – $200
While hoverboards never really became a real thing, moon shoes certainly did. Who doesn't want to wear shoes that makes them feel like a kangaroo? While they were potentially a safety hazard in hindsight, moon shoes had enough spring to give children hours upon hours of fun. They have been around since the 50s, believe or not. However, they only became mainstream decades later. Nowadays, you can buy a pair of moon shoes online for a couple hundred bucks.
Sky Dancer – $100
While many families suffered at the hands of these high-flying Sky Dancers, they undoubtedly were the source of a lot of kids' fun. Essentially Barby dolls that were able to spin in the air as if they were flying, this was a fine example of toys that eventually fall off the market due to having just one function. Despite this, such a simple toy eventually paved the way for its very own TV show. Nowadays, you will have to part way with $100 if you want to rekindle those Sky Dancer days.
Super Soakers – $380
If you know a kid that doesn't like water fights, then your best bet is to stay away. At the height of their popularity, Super Soakers were the go-to weapon for any kid who took water fighting very seriously. A huge hit during the Summer, you would normally have to pay anywhere between $10 and $50 to add one of these water guns to your arsenal. Look, Super Soakers are still on the market today. However, some of the older models can be found online and are normally worth hundreds of dollars.
Easy Bake Oven – $305
Arguably one of the most useful "toys" on this list, the Easy Bake Oven became a huge hit with the kids when it first came out during the '60s. Hasbro's mini oven allowed its little users a chance to bake cakes and cookies in a safe, child-friendly way. With manuals and starter packs included, your child was good to go! While the starting price for one of the classic ovens is $305, you can actually call the Super Treat Center your own for a huge $4,600.
Skip-It – $120
It may seem pretty simple, but boy, the possibilities were endless with the Skip-It toy. Simply attach this stick to your ankle with the plastic sphere at the end, and start practicing a wide range of skills and tricks to impress your friends. Although it was a useful tool for social purposes, that was pretty much its only use. Amazingly though, you can still find this toy, with new neon light add-ons. However, it's the classic ones that are fetching up to $120.
HitClips – $100
The way that we listen to music is always changing and evolving. With time, it has become easier and easier for kids to store music and carry it around with them. These days, iPhones and smartphones, in general, are the way to go. However, there has been a steady progression of portable music players, from cassette players to CD players and from walkmen to MP3 players. Then there's the HitClips device, which allowed users to play up to a minute of the latest singles.
Mario Kart 64 – $2,500
Not a traditional toy, by any means. However, Mario Kart 64 is, for many, their childhood. In fact, anything with our favorite Italian plumber involved is bound to have considerable sentimental value. At one point the most popular game on Nintendo 64, this game was an appropriate evolution from the original Mario Kart that many SNES players absolutely adored. Nowadays, there are a number of online dealers who are selling mint-condition versions of this favorite game for thousands of bucks!
Jurassic Park Toys – $400
Dinomania swept pop culture back in the early '90s when Jurassic Park became one of the most successful blockbusters of all time. Along with the movie came a ton of popular merchandise – most notably, toys. It makes perfect sense that the formidable T-Rex is now an extremely sought-after figure, with its awesome hidden button that triggers a stunning roar. While certain dinosaurs such as the Stegosaurus or Triceratops sell for a couple of bucks these days, the T-Rex has sold for $400!
Talkboy – $130
The Dear Diary may have been a huge hit with the girls. However, it was the Talkboy that captured the imagination of the boys. One of the most memorable parts of the film Home Alone 2 was when Kevin used the Talkboy. The movie essentially popularized the recorder and got millions of kids reenacting the classic scenes involving Macaulay Culkin. At the time, the Talkboy was an incredible piece of technology, especially since it was portable and relatively easy to carry.
American Girls Doll – $25,500
There was no doubt that the American Girls doll was integral to whether you were popular or not. If you wanted to be in the in-crowd, then you had to make sure you had one. However, if you didn't have the pocket money to afford one, now you have the chance to finally be one of the cool kids. Make no mistake about it though, it will cost you an arm and a leg. While many are still a reasonable price, one large collection has sold on eBay for a crazy $25,500.
View-Master – $430
Slide projectors were in common use long before people started recording with film or digital devices. This particular toy took advantage of this groundbreaking technology, providing the user with a unique insight depending on the model. The View-Master was a toy for children that gave them a fresh look into a world that they didn't see coming. Being so unique, it makes sense that some models are valued these days at $430. Users were also able to fill the View-Master with new slides.
Strawberry Shortcake Dolls – $1,000
Originally an accompanying doll for birthday cards, the Strawberry Shortcake eventually became an excellent gift in its own right. It wouldn't take long before this charming little toy's popularity created a number of movies and TV shows. With cute girls and freckles on each cheek, the doll had many different reincarnations, each one with its own theme. Even until this day, the Strawberry Shortcake dolls are still available in their classic packaging. This Mint Tulip ended up being sold for $1,000!
Care Bears – $5,000
If the Care Bears didn't quench your thirst for toys, then nothing would. With every bear sporting a unique color, there was a guaranteed toy for every single person. Not only did you have bears in their charming collection. Elephants, pandas, and dogs were also in circulation. Most importantly though, each bear had a special logo printed on its belly, signifying something special about it. With many movies and TV shows spawning from this '80s classic, some collections were valued just short 0f $10,000.
Transformers – $1,300
Look, there are many diehard Transformers fans who will agree that the Michael Bay movie franchise doesn't quite capture the essence of the original '80s series. However, purists still have their toys to marvel at. The sheer prospect of having a toy that you could convert into a vehicle was tantalizing enough for any fun-loving kid. With tons of comics, animated shows, and now movies to accompany the Transformers lore, it should come as no surprise that some classic models are fetching thousands of dollars online.
Nintendo NES – $1,300
The Sega Genesis may have been a popular alternative, but for many, nothing can come close to the classic Nintendo NES. This iconic video game console revolutionized the way that both children and adults spent their free time. And of course, it was Super Mario Brothers that spearheaded the console into a new era. It didn't take long before a 2016 re-release of the console was immediately sold out. Amazingly though, another re-release is scheduled to come out soon, including a stunning 150 games. However, you can still buy the original for about $1,300.
G.I. Joe Action Figures – $200
These days, G.I. Joe is an intellectual property that has manifested itself in the form of TV shows, movies, and video games. However, back in the day, the classic action character was nothing more than just a toy. Depending on when the specific toy first came out, you can expect to spend anywhere between $20 and $200 for one of these bad boys. What makes G.I. Joe toys so special is that there are so many different types of figures you can get.
Peanuts – $3,000
One of the oldest toys on this list, Charlie Brown is a character that has stolen the hearts of many generations since it was first created by Charles M. Schilz back in 1951. With a love for composers such as Ludwig van Beethoven, Charlie Brown had his very own piano. This particular Peanuts model from 1958 is considered by many to be an extremely rare item in the world of toys. Never being sold cheap, the piano set has been known to fetch up to $2,995 online.
Webkinz Stuffed Animals – $1,100
One of the more recent toys on this list is Webkinz Stuffed Animals. What made these toys different from others were their compatibility with the company's website. Each stuffed toy had a special code, allowing the user to log into the website. Since then, Ganz has released hundreds of different models. In 2008, it released its 100th animal. The following year, it released its 200th, and a year later, it's 300th. These days, you can expect to purchase sets for a whopping $1,100!
Woody – $1,000
This is one particular toy that people will be desperate to make their own. However, owners will be desperate to hang on to Toy Story's main character, Woody. While many kids preferred either the fun-loving cowboy or Buzz Lightyear, there was no denying that most fans loved Tom Hanks' character. With more movies to come, you can expect to see Woody's value continue to rise. If you have one locked away somewhere in your attic, you may fetch a cool $1,000 for him.
Sit 'N' Spin – $90
Spinning tops have always been a popular source of fun for kids around the world. However, the Sit 'N' Spin was a little different. Playskool's classic toy is fairly straightforward, but with the user being more integral to its playability. As you would guess by the name, the child sits on the toy and spins around on it. While it might not seem like the most exciting toy on this list, there is no denying that such a vintage model would fetch a fair amount of money. This one? $90.
1988 Cherry Merry Muffin Set – $50
A slightly trickier toy set to keep in mint condition, the 1988 Cherry Merry Muffin Set has many loose components to it. If you're missing one, then the entire value of the set drops considerably! With everything from a spoon and cupcake to a plastic cherry, this 15-piece set simply won't cut it if you're missing any one part. However, there is no denying that the doll is the most valuable component of the entire set. Extremely rare, there was one set that recently fetched over $275.
Sonic The Hedgehog Video Game – $2,000
We've already covered the Sega Genesis. Now it's time to take a look at its most valuable asset – the Sonic the Hedgehog video game. While Nintendo was creating classics such as Super Mario Bros, Sonic was the direct rival and developing a diehard fan base of its own. This blue creature has the ability to sonically move through his world to crush his enemy, Doctor Eggman. Not only has the video game fetched thousands of dollars online, but so has the Sonic figurine.
WWF Action Figures – $3,000
While many believe that the World Wrestling Federation's golden years are long gone, the WWE (as it is now called) still has a huge fanbase through its many charismatic characters and entertaining shows. However, there is no denying the power of classic characters such as Hulk Hogan, the Iron Sheik, and Andre the Giant. Many kids who grew up during the late '80s/early '90s loved nothing more than playing with figurines and recreating classic bouts between the wrestling world's finest.
Fashion Plates – $50
Any kid who had a Fashion Plate growing up had the appropriate canvas to ignite their creative spark. Many fridges across America were laden with pretty designs from this fashion-orientated set. Seeing that this "toy set" first came out during the '70s, it made sense that the templates on the Fashion Plates reflected the era in which it was made. Eventually, the toy ceased to be produced, especially since its manufacturer Tomy was no longer interested in producing toys.
Batman – $16,000
Over the years, there have been so many reincarnations of DC's classic hero – Batman. From Michael Keaton's '90s classic to Christian Bale's Dark Knight, Batman continues to be the spearhead of DC movies till this very day. However, the new generation often forgets who the original wearer of the black cape was – Adam West, of course. Take this action figure, for example, which sports the original design. With a peak production run during the '60s, these Batman figures have been known to fetch up to $16,000 online!
Happy Meal Toys – $400
Super Mario's at it again! Being such an iconic group of characters for so many kids, the Nintendo heroes eventually became a set of free toys with kids' Happy Meals at McDonald's. While these little freebies seem useless in the long run, their sentimental value has given them some pretty stunning price tags. This specific collection is worth about $400! As a matter of fact, many McDonald's Happy Meal toy sets are worth a lot of money, as long as you have every single piece.
Pretty Pretty Princess – $280
What is life if you can't pretend to be someone else from time to time? With Pretty Pretty Princesses, kids had the chance to enjoy a bit of escapism and imagine as if they were a group of royal figures in a mythological kingdom. All you had to do was take turns flicking a spinner and you would acquire certain pieces of jewelry. While this game was available for just $10 back in 1990, potential buyers nowadays can expect to pay within the region of $300.
Cabbage Patch Kids – $3,000
The '80s was a time when it seemed like every other household had a collection of Cabbage Patch Kids. Xavier Roberts' creation became popular with so many families and, with time, the plush toys became diversified, so you can purchase a wide variety of different editions. Not only did they appeal to both boys and girls, but adults also fell in love with the Cabbage Patch Kids. While they generally sell well online, a James Dudley toy from 1985 recently sold for a stunning $3,000.
Polly Pocket – $455
Who didn't want to create a world of their own using pretty little Polly Pockets? Like many toys on this list, there are actually new/recent editions in stores. Make no mistake about it though, these mini homes are going to cost you if you want the original models in your life once again. While you won't be able to purchase every single one from the classic line, there are still a few that you can find online – for $445!
Troll Dolls – $700
While some kids were understandably freaked out by the Troll Doll, it was also considered by a fair amount of beloved fans to be quite cute. Originally hailing from Denmark, of all places, it eventually made its way into the American market during the '60s. Unmistakable due to its long, fluorescent hair, the Troll Doll has evolved with time, having its own video games and movies. At just under $700, the original doll is a sought-after figure for collectors around the world.
Original My Little Ponies – $600
One of the quintessential toys of the '80s, Hasbro's My Little Pony was a commercial force to be reckoned with, bringing in an incredible $160 million for the toy company. Seeing that they were so culturally significant looking back, ponies that are in top condition now will fetch anything from $300 to $600 online. With so many other mediums spawning from this classic toy, such as TV shows, books, and even movies, people just keep on coming back for My Little Pony.
Beanie Babies – $475,000
It might seem obvious, but for some reason, many are willing to part way with a lot of money for a pair of purple teddy bears. Remember the Beanie Babies? Ty Warner's creations included an extremely popular set of toys amongst the '90s youth. In the end, it would be the owners of these specific bears who would have the last laugh. While many Beanie Babies owners were unsuccessful with their online sales, the Princess Diana bear has reached a stunning value of $475,000.
Pez Dispensers – $8,000
If there was ever a more iconic way to eat candy, then we'd like to know. Despite being of Austrian origin, Pez Dispensers have been a popular purchase amongst American kids since they were first brought from overseas. While it only had a limited amount of heads at first, Pez has since adopted iconic faces from the biggest TV shows and film franchises in pop culture. These include comic book characters, Star Wars characters, and even the Looney Toons. Some of the rarest ones are believed to be worth between $7,000 and $8,000.
Star Wars Action Figures – $2,000
Some of the most sought-after action figures of the last 50 years happen to come from a galaxy far, far away. Star Wars has, over the years, produced a long line of iconic characters such as Luke Skywalker, Darth Vader, and Chewbacca, to name a few. As time has gone on, not only has Star Wars' impact on pop culture become more and more significant, but the action figures have risen considerably in value. One Boba Fett toy from the '70s sold in an auction for over $30,000! The Force is strong with these toys, that's for sure.
Barbie – $20,000
What would a valuable toys list be without the one and only Barbie? Arguably the most iconic toy of all time, Barbie dolls have been in circulation for so long that any other female doll just feels like a ripoff. Originally just a blonde-haired, blue-eyed lady, there have since been many reincarnations of the doll, catering to many demographics and different types of people. However, the original Barbies are still believed to be the most valuable, normally expected to fetch anywhere between $1,200 and $20,000.