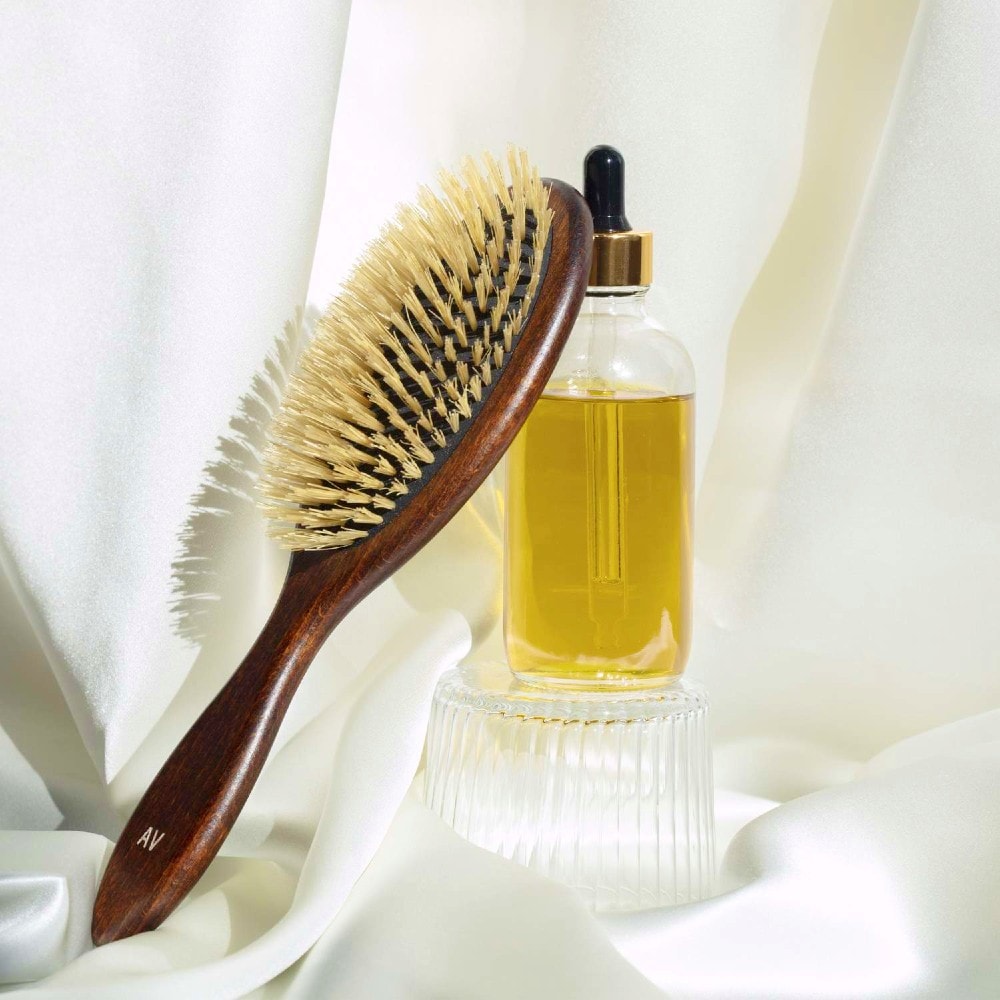 Scientifically named Ricinus Communis, castor oil has a long rich history going all the way back to ancient Egypt. Along with its long legacy in hair care, castor oil has also been used in fragrances, skincare products, inks, dyes, etc. This versatile oil is rich in ricinoleic acid, which is known for moisturizing your scalp and also supporting collagen production. Here are some of the benefits your hair can gain from castor oil.
Full Nourishment
Castor oil is rich in essential health ingredients like vitamins, antioxidants, and fatty acids. With topical application, these ingredients nourish the hair root and make your hair smooth, hydrated, and glossy. The oil also effectively nourishes both the scalp and hair follicles.
Fighting Hair Loss
Cold-pressed castor oil is a common remedy for hair loss and maintaining scalp health. That's why it's often mentioned as a cure for alopecia, though arguably. But the undeniable fact is that the antioxidants and ricinoleic acid of castor oil support high collagen production and also improve the hair follicles' health, helping them to keep a better hold on the scalp.
Cleansing
The antimicrobial properties make castor oil vital for scalp and hair health. These properties specifically reduce the signs and effects of acute and chronic scalp conditions, such as irritation-causing bacteria and fungal infections. By fighting off these potential irritants, castor oil reduces itching and tugging at the scalp, resulting in reduced hair loss.
Reducing Product Buildup
All hair products come with a risk of damaging residue buildup on the scalp, strands, and around the follicles. Castor oil comes in handy here, as it has a surprising ability to improve the absorption of other hair products. As a dual benefit, it helps your products, treatments, masks, and oils work more effectively and also decreases potential irritation from buildup.
Protecting Against Split Ends and Breakage
The ricinoleic acid of castor oil is useful in enhanced hair treatment, as it helps in boosting necessary blood flow to the scalp and hair follicles, making them grow healthier and stronger. Also, castor oil is a rich humectant, which is a water-absorbing substance. So it's useful for improving and retaining the moisture in your hair.
Reducing Flaking
Several things can cause dandruff on your scalp. But often, dandruff and flaking develop due to bacteria or fungal infections, which irritate the scalp, making it itchy. Castor oil effectively prevents the condition by reducing the feeling of a dry scalp and the development of flaking-causing fungal infections on the scalp.
The Midnight Sky: A Competitive Contendant in Multiple Award Categories
The ongoing lockdown has a different effect on everyone. For example, George Clooney couldn't go back to Italy and he wound up with his family in his three-acre Laurel Canyon compound and with no domestic help. When he wasn't busy with household duties or playing with his three-year-old twins, he was remotely finishing his seventh feature film as a director – The Midnight Sky.
The Midnight Sky on Netflix
Clooney shared that he had to take a six-month crash course in visual effects for the production which worked well enough for him, but it's not "jam-packed with exploding things" the star also added.
The Midnight Sky premiered on Netflix on December 23rd and many believe it could return George Cloony to Oscar connection for the first time since 2013 Best Picture-winner Argo. This came at a rather busy moment for Clooney as he scored an acting nomination for The Descendants the year before. He was also nominated for the Adapted Screenplay award for The Ides of March.
Unlike many scarce movie stars, Clooney is known to easily get movies financed and greenlit (this includes Hulu's Catch-22) and has no issue with financing less-commercial productions such as The Monuments Men, Confessions of a Dangerous Mind, Suburbicon, and Leatherheads.
Will The Midnight Sky Get an Oscar?
The Midnight Sky is a serious competitive contender in multiple categories and the most notably best original score for Alexandre Desplat. The film is based on Lilu Brooks-Dalton's book Good Morning, Midnight, and its structural bones are space and silence.
However, the spirit and heart of the production are fixed on the movie's visual decorations and taut narrative, making The Midnight Sky Clooney's finest hour in both direction and performance. Given the thought that Clooney is no stranger to the Academy's affections and he's one of the only three people nominated in six different categories, The Midnight Sky has a real chance of winning an Oscar.