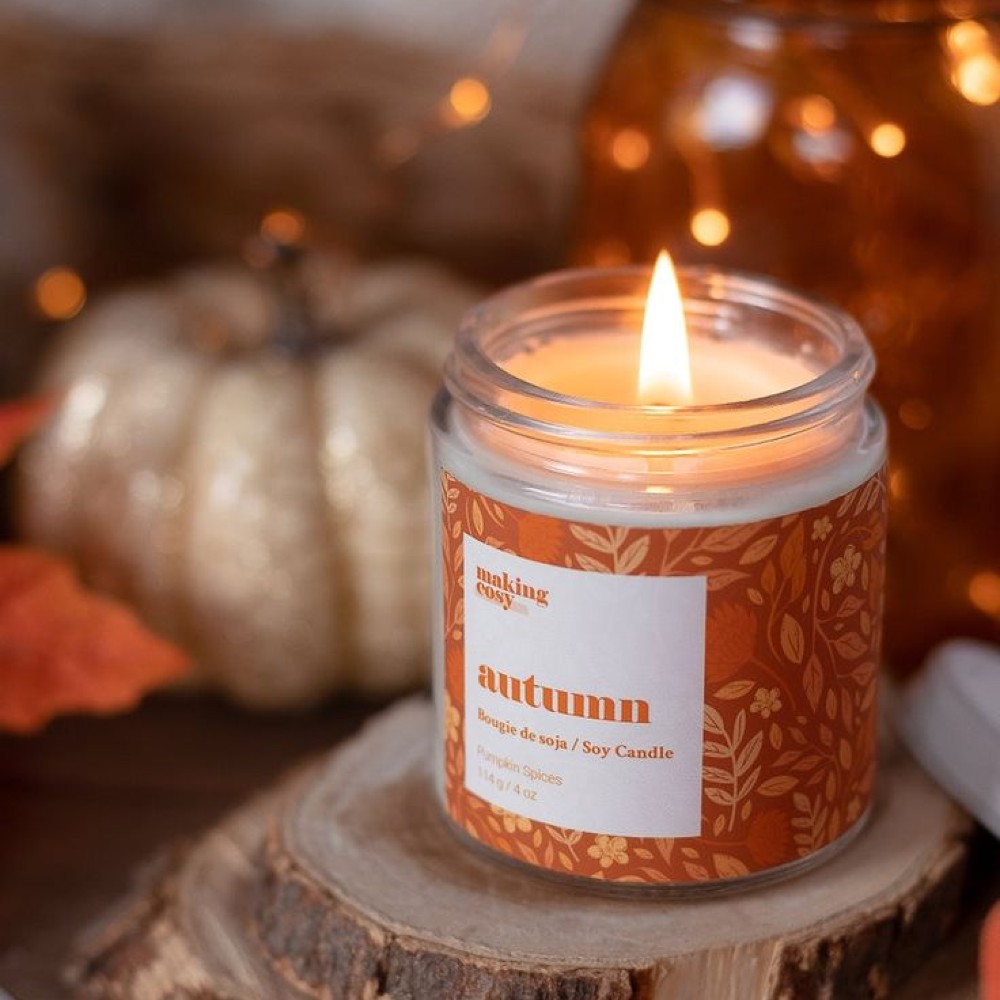 Fall is one of the best times of the year for many reasons. You get to enjoy the dramatically colorful foliage, wrap yourself up in warm cozy sweaters, whip up a yummy baked treat, and of course, pick candles in your favorite fall scent. From pumpkin spice to apple cider, fall is full of delicious smells. Even scientists have confirmed that almost every fall scent contains a therapeutic benefit to our mood and health. Check out these best scents of the season that could help you in ways you never knew of.
Campfire
Fall and winter are the seasons to get a nice warm fire going on in your backyard. But most of us don't know that cozying up around a campfire comes with some health benefits too! Research by the University of Alabama reveals that breathing in the woodsy scent of a bonfire while admiring the flickering flame and listening to the soft crackling sound can lower our systolic blood pressure by six points in just 15 minutes. There's a specific reason behind it. For centuries, our ancestors used to gather around campfires at night to relax and socialize. Over time, we evolved to associate that tradition with happiness and stress relief.
Cloves
It's hard to plant fall bulbs or knit winter wear with stiff hands or arthritis pain. All you need to do is just to add a pinch of ground clove or a drop of clove oil to your regular hand cream. It's better if the cream doesn't already contain any strong scent in it. Then, massage the cream on the sore spots. According to Brazilian scientists, eugenol of cloves helps to block inflammation with impressive analgesic effects, similar to prescription medicines.
Pumpkin Spice
Nothing says fall like pumpkin spice. When you're feeling stressed, nothing works better than warm pumpkin spice-flavored treats, like pumpkin spice teas, lattes, or soups. Synonymous with the fall season, these warming spices are packed with a compound named linalool. Japanese scientists confirmed it to be highly effective at stress relieving, just like anti-anxiety medicines. When the scent is inhaled, this compound offshoots release of GABA, a special brain chemical that eases tension by soothing the central nervous system.
Ginger
Gobbling up too much Halloween candy can happen to the best of us! Overeating often leads up to a groggy sick feeling. In such times of queasy sensation, sip a cup of ginger tea while breathing in its spicy scent. As per scientific research, a good sniff of ginger can almost instantly calm nausea or soothe any uneasy feeling for 65% of people.
Cinnamon
It's quite normal to feel blue when the season changes to become colder. Cinnamon can help you to stay summery throughout the fall. Slowly breathe in the sweet scent of a cinnamon-scented candle for a sunny disposition. According to scientists, the comforting aroma of cinnamon helps to increase beta brain waves, which is the key source of mood-booster energy in our bodies. After a short while surrounded by this scent, you'll notice an enhanced feeling of joy!