Robert Downey Jr.'s 1965 Corvette Stingray
Robert Downey Jr. owns several cars in his collection, including the Audi R8 he drove in the first Iron Man film, a Ferrari California T, and a customized 1969 Ford Mustang Boss 302. However, one of his most treasured vehicles is a 1965 Chevy Corvette C2 that he meticulously restored.
The car is finished in a dark color, offering a more subdued appearance than flashy red or blue colors. Downey Jr. and his spouse frequently drive along country roads on sunny days.
Ralph Lauren's 1938 Bugatti Type 57SC Atlantic
Ralph Lauren, a prominent fashion designer, philanthropist, and entrepreneur, has amassed an impressive fleet of automobiles. His collection includes some of the world's most coveted vehicles, such as a 1962 Ferrari 250 GTO and a 1957 Jaguar XKSS.
The crown jewel of his collection is an extremely rare 1938 Bugatti Type 57SC Atlantic, valued at a minimum of $40 million. Lauren's collection is a testament to his passion for refined design and craftsmanship and his appreciation of the beauty in classic cars.
George Clooney's 1958 Chevrolet Corvette
George Clooney possesses a vast collection of classic cars, but interestingly, his most beloved one wasn't acquired through a purchase. The actor is especially fond of a red 1958 Chevrolet Corvette V8 C1 convertible that he got as a family heirloom from his father.
The prominent actor also possesses several other vehicles like a Porsche Carrera, a Tango 600, and a few unusual motorcycles.
David Letterman's 1955 Jaguar XK140
Since retiring from his show, David Letterman has been able to indulge in his two great passions – collecting vintage cars and racing. His collection includes some of the most thrilling vintage vehicles ever made, such as six Porsches, eight Ferraris, and three Austin Healeys.
One of the standout cars in his collection is a remarkable 1955 Jaguar XK140, now valued at over $130,000. His car collection is estimated to be worth over $2.5 million.
Beyoncé's 1959 Rolls-Royce Convertible Silver Cloud
Beyoncé is familiar with luxury, and although she recently started amassing a collection of classic automobiles, the one that stands out is the 1959 Rolls-Royce Convertible Silver Cloud.
The vehicle was gifted to her on her birthday by her husband, Jay-Z, who's an enthusiast of vintage cars. Jay-Z's car collection is estimated to be worth about $15 million. The Silver Cloud gifted to Beyoncé by Jay-Z was worth $1 million.
Matthew McConaughey's 1981 Camaro Z28
While Matthew McConaughey tends to use everyday cars like the Lincoln MKX and the GMC Yukon XL, the actor has an enviable collection of fast cars. Among them is the 1981 Camaro Z28, which he enjoys driving.
McConaughey once had a 1971 Corvette Stingray but sold it on eBay for $61,600, which he donated to Oprah's Angel Network for Katrina and Rita.
Eric Bana's 1974 Ford Falcon XB
Eric Bana is passionate about racing, but he's often seen driving practical cars. However, his true love is a 1974 Ford Falcon XB, which he's named "The Beast." This car has been his dream since he first saw it at the Bathurst motor race in Australia in 1977.
Bana's love for the vehicle inspired him to make a documentary, Love the Beast, exploring his relationship with the car. The film also features an accident in 2007 that nearly destroyed the vehicle.
Jay Leno's 1967 Chevy C10
Jay Leno's passion for cars is well known. His collection of cars is worth over $52 million, and he frequently takes these impressive vehicles for a spin. His cars include a 1967 Chevy C10, a 1955 Buick Roadmaster, and a remarkable 1909 Baker Electric.
Jay has even said that the Baker Electric is the only car he owns that doesn't require any maintenance due to its high-quality construction.
Jerry Seinfeld's 1959 Porsche 718 RSK
Jerry Seinfeld is known for his impressive car collection, which has been showcased on his show Comedians in Cars Getting Coffee. While his love for cars was relatively unknown, it's become a well-known fact. His collection is extensive and includes some truly remarkable vehicles.
Among these is the 19th 1959 Porsche 718 RSK ever made, which offers a unique and incredible driving experience.
Kate Moss's 1964 Rolls-Royce Silver Cloud
A highly accomplished supermodel, Kate Moss has chosen a surprising car – a 1964 Rolls-Royce Silver Cloud. Despite being considered one of the least attractive cars from the Rolls-Royce brand due to its outdated style, it's still acknowledged as a notable classic.
Kate has a better understanding of cars than people might expect, as she appreciates this largely underappreciated vehicle.
Tim Allen's 1996 Impala SS
Tim Allen, famous for his role in the TV show Home Improvement, is very interested in cars, which may surprise those who only know him as a comedian.
Tim is the proud owner of a 1996 Impala SS, a 1965 Shelby Cobra, and a 1968 Chevrolet Camaro 427 COPO, among others. In interviews, the actor has revealed that he's loved cars since childhood.
Aaron Paul's 1965 Shelby Cobra
Aaron Paul gained widespread recognition for portraying Jesse Pinkman in the TV series Breaking Bad. Following his success on the show and winning an Emmy award, he expanded his car collection by purchasing a stunning 1965 Shelby Cobra.
He put in extensive hours of practice on the tracks for the film Need for Speed. Once filming was completed, DreamWorks presented him with the 1968 Gran Torino that he drove in the movie as a gift.
Ben Affleck's 1966 Chevelle SS 396
Although some of Ben Affleck's movies didn't receive great reviews, his car taste is impeccable. In his role in Batman, he was allowed to drive the iconic Batmobile, which unfortunately was too small for his height of 6'4″.
Therefore, the car had to be resized by 110% to accommodate him. Apart from the Batmobile, Affleck also owns some stunning classic cars, including a 1966 Chevelle SS 396, which he upgraded so it'd have even more power.
Nicolas Cage's 1971 Lamborghini Miura SVJ
This particular individual is well known for making eccentric and pricey acquisitions. He's rumored to have been bidding against Leonardo DiCaprio over a T-Rex skull valued at $276,000.
However, one of his most impressive purchases is considered to be his 1971 Lamborghini Miura SVJ. It's regarded as a luxury car, and Cage won the auction over the phone with a winning bid of $446,820.
Adam Levine's 1958 Porsche 356A
The musician's appearance might give the impression that he's a vintage car collector, and his collection is impressive. One of his most outstanding cars is a 1958 Porsche 356A.
His uncle, a Porsche enthusiast, influenced Lavine's passion for Porsches. The musician has even collaborated with the brand, endorsing their new models such as the electric Mission E.
Colin Farrell's 1987 Ford Bronco
Farrell enjoys running errands and cruising around in a 1987 Ford Bronco, a car that the actor adores.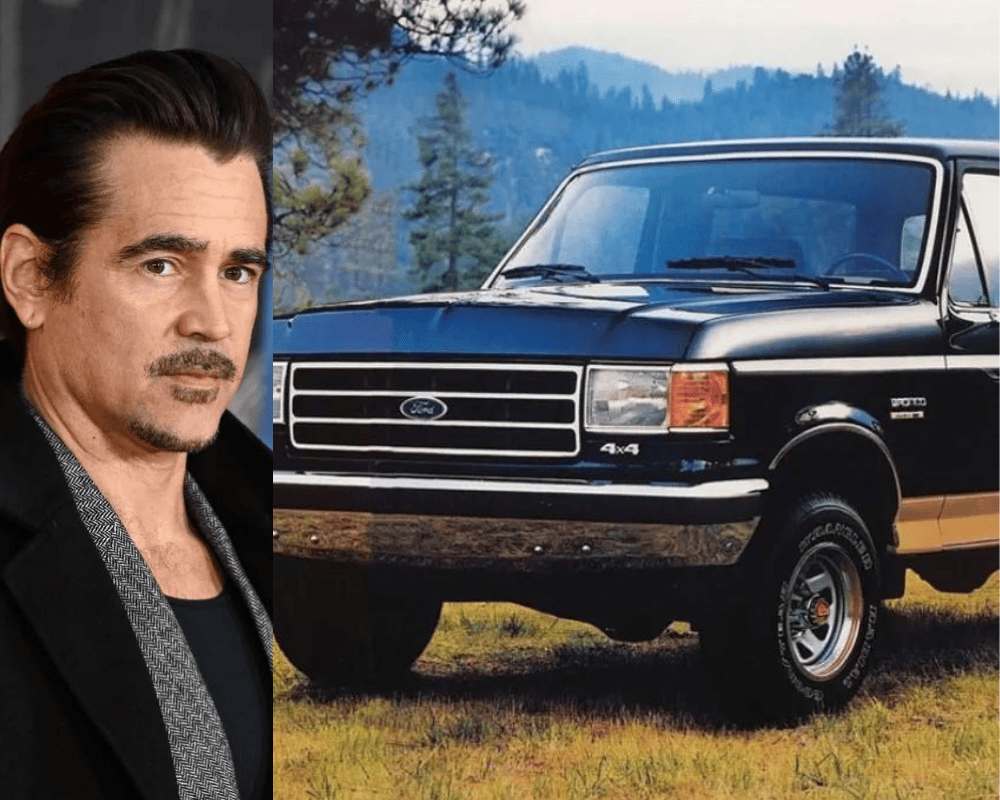 Although this vehicle isn't particularly noteworthy for being expensive or impeccably maintained, seeing a celebrity driving a regular, everyday car is refreshing.
Tim McGraw's 1969 Mercedes Convertible
It's interesting to note that Tim McGraw's father, Tug McGraw, was also a well-known personality. He was a big fan of the Mets baseball team, and when they won the World Series in 1969, he received a bonus of $10,000, which he spent on a 1969 Mercedes Convertible.
After some time, Tug gave the car to Tim's brother, and it eventually ended up in Tim's possession. Tim then restored the car to its original condition and has since been the proud owner of this particular vehicle.
Billy Gibbons's 1948 Cadillac Series 62 Sedanette
It's no shock that Gibbons made this list. As the lead singer of ZZ Top, he's well known for his love of vintage cars. His absolute favorite is the 1948 Cadillac Series 62 Sedanette, which he affectionately calls CadZZilla.
It has a customized lead sled body designed by Larry Erickson, one of the top designers at Cadillac. Gibbons paid a whopping $900,000 for it, but he says it was worth every penny.
James Hetfield's 1934 Packard
The lead vocalist of Metallica, like many others on this list, has a great interest in vintage cars. James Hetfield collects and customizes hot rods, and two of his prized possessions include a 1936 Ford Coupe called Iron Fist and a 1934 Packard known as the Aquarius.
Iron Fist is a unique vehicle with special features and a one-of-a-kind design. As for the Aquarius, it's known to have a futuristic look.
Patrick Dempsey's 1972 Jaguar E-Type
Patrick Dempsey, who gained fame for his role in Grey's Anatomy, is also the owner of Dempsey Racing and a passionate racecar driver. In addition to his impressive collection of racecars, he owns some classic cars, including a 1972 Jaguar E-Type and a 1969 Mercedes-Benz 280SE.
However, his first love was a 1963 Porsche 356, which he bought for $10,000 and used as his daily car for 15 years.
Lady Gaga's '65 Lincoln Continental
Lady Gaga has an impressive collection of classic cars that rivals, if not surpasses, the collections of many men on this list. Her most treasured vehicles include a Porsche Boxster, a Ford Bronco, a Mint Blue Chevy Nova SS, Chevrolet El Camino, and a '65 Lincoln Continental.
While she purchased Elvis Presley's pink coupe Cadillac DeVille at one point, she sold it to promote what was, at the time, her newest album.
Justin Timberlake's 1968 Alfa Romeo Spider
Justin Timberlake has a passion for cars, and he's had a partnership with Audi since 2010. His fantastic car collection includes a 1968 Alfa Romeo Spider, a 1993 Acura Legend, a Hummer H3, and a 1967 Pontiac GTO.
Timberlake fell in love with the Pontiac after driving it in the movie Trouble With the Curve and bought it from a guy in Texas who had just restored it and barely driven it.
Kendall Jenner's 1960s Cadillac Eldorado
Although Kendall Jenner is one of the youngest celebrities featured on this list, she's known for having a fondness for vintage cars. In an interview, she expressed her passion for cars, comparing it to some people's love for tattoos.
She believes that owning a vintage car can make a man more attractive. Some of the vintage cars in her collection include a 1969 Chevy Camaro SS Convertible, a 1960s Cadillac Eldorado, a 1957 Chevrolet Corvette Convertible, and a 1965 Ford Mustang Convertible.
Nick Jonas's 1968 Ford Mustang
Nick Jonas is known to be a fan of classic cars, which echoes his taste in women.
His collection includes a 1968 Ford Mustang, a Dodge Challenger R/T, a 5th generation Chevrolet Camaro, and a 1960 Ford Thunderbird.
Hugh Laurie's 1966 Ford Galaxie 500 convertible
The actor known for his role in House is passionate about vintage cars. He bought a 1966 Ford Galaxie 500 convertible in 2010 but eventually sold it to his mechanic.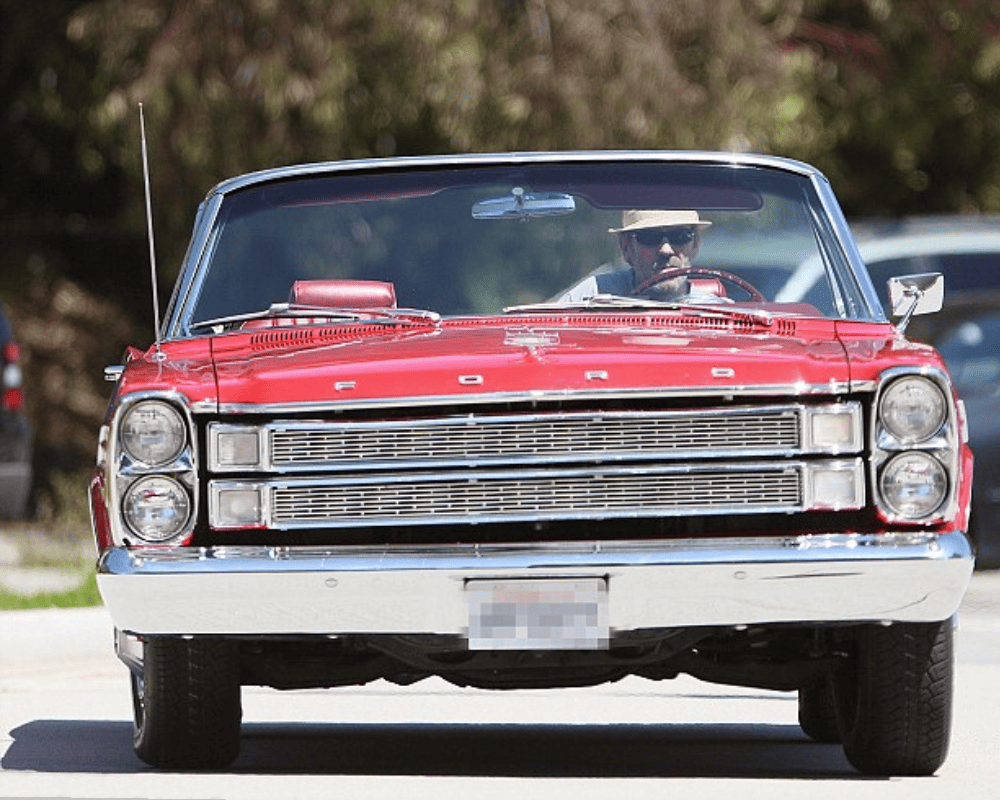 The mechanic repaired it and sold it for $45,500. It's worth noting that the car still has its original radio.
Brody Jenner's 1970s Dodge Charger
The star of The Hills, who's also the son of Caitlyn Jenner and brother of Kylie and Kendall, is known for his obsession with vintage cars.
He particularly loves his black 1970s Dodge Charger, which he often drives around the city.
Chris Evans's 1964 Daimler V8 Vicarage Convertible
The TV presenter, who had a stint in Top Gear, is a genuine car enthusiast. He has a remarkable assortment of classic cars, including a 1971 Ferrari 365 GTS/4 Daytona Spider, a 1964 Daimler V8 Vicarage Convertible, a 1961 Ferrari California Spider, a Jaguar XK120, and a McLaren 675LT.
Moreover, he possesses the iconic car from the movie Chitty Chitty Bang Bang, one of only six cars built for the film, registered under GEN 11.
Nico Rosberg's Mercedes 300SL Gullwing
Former Formula One driver Nico Rosberg is the proud owner of a beautiful classic car – a Mercedes 300SL Gullwing. The car was first introduced in 1954 and is known for its distinctive gullwing doors. Rosberg's car is a 1955 model and has undergone a complete restoration.
It features a silver exterior with a red leather interior, and its sleek lines and classic design have made it a favorite among car enthusiasts. It must help Rosberg to have a great ride at home too when he drives an F1 car for a living all day.
Snoop Dogg's 1966 Pontiac Parisienne
The rapper's 1966 Pontiac was custom-painted with colors that resemble those of the Los Angeles Lakers to show Snoop's love of basketball and the NBA.
Snoop Dogg is known for his eccentric personality but he's also known to have excellent taste in cars.
Bruce Willis's 1967 Chevrolet Corvette
Bruce Willis is a well known car enthusiast and the proud owner of a beautiful 1967 Chevrolet Corvette. The car is a convertible with a Marina Blue exterior and a blue interior.
Willis has been spotted driving the car on various occasions. It looks like the Die Hard actor is just as meticulous about his cars as he is about his movies.
John Cena's 1968 Pontiac GTO
John Cena is a known car enthusiast and owns several classic and modern cars. One of his prized possessions is a 1968 Pontiac GTO, which he bought when he was 15 years old. The vehicle has a V8 engine, over 350 horsepower, and a red exterior with black stripes.
Cena has stated in interviews that he has a special attachment to this car, as it was his first major purchase and he worked hard to earn the money to buy it.
Chris Pine's Vintage Porsche Speedster
Chris Pine, the actor known for his roles in movies such as Wonder Woman and Star Trek, owns a vintage Porsche Speedster. The car is a 1950s model and is considered a classic among enthusiasts.
Pine is often seen driving the car around Los Angeles and has even been spotted taking it to car shows and events. The Porsche Speedster is known for its sleek and minimalist design and has been featured in many movies and TV shows.
Harrison Ford's 1955 Jaguar XK 140
Harrison Ford's 1955 Jaguar XK 140 is a classic car he's owned for many years. The Jaguar XK 140 was produced from 1954 to 1957 and was a popular sports car. Harrison Ford's particular car is a convertible painted in a beautiful dark green color.
He's been spotted driving this car on various occasions, showing his love for classic cars. The car is estimated to be worth around $70,000-$90,000.
Jesse Metcalfe's Vintage Chevelle
Jesse Metcalfe, an actor known for his role in Desperate Housewives and John Tucker Must Die, is a car enthusiast and the proud owner of a classic Chevrolet Chevelle.
The Chevelle is a muscle car produced by Chevrolet between 1964 and 1977, and it's a popular choice among car enthusiasts. As he's comfortable playing many roles, Metcalfe could be even more comfortable when it comes to purchasing expensive cars.
Rowan Atkinson's 1951 DB2
Mr. Bean actor Rowan Atkinson is well known around the world for his acting. However, only his most ardent fans know about his vehicular expertise. Among Atkinson's enviable vintage collection, he boasts a Bentley Mulsanne Birkin Edition, Rolls-Royce Phantom Drophead, V8 Vantage, 1951 DB2, and V8 Zagato.
The actor is also notorious for his experiments with his motor vehicles. One of them included the engine of his Rolls-Royce Phantom Drophead which he replaced with a 9-liter V16 engine.
Dax Shepard's 1967 Lincoln Continental
Dax Shepard is a well known actor and car enthusiast with a classic car collection. One of his prized possessions is a 1967 Lincoln Continental, which he's called his dream car. The car is a four-door sedan with rear doors that open opposite the front doors.
It has a powerful 7.6-liter V8 engine that produces 320 horsepower and 460 lb-ft of torque. Shepard has shared that he found the car in Arizona and has restored it to its original beauty.
Matthew Bellamy's 1962 Ford Thunderbird
Matthew Bellamy, the lead singer of the rock band Muse, is a vintage car enthusiast and owns a collection of classic cars. One of his many possessions is a 1962 Ford Thunderbird.
The car features a unique design and is known for its stylish appearance. Bellamy has been spotted driving the car multiple times and has shared his love for vintage cars in interviews.
Dita Von Teese's 1953 Cadillac Fleetwood
Dancer, model, and businesswoman, Dita Von Teese is a vintage car enthusiast and owns a 1953 Cadillac Fleetwood. The car is a stunning example of the iconic American car design of the 1950s, with its distinctive tail fins and chrome details.
The Cadillac Fleetwood was a top-of-the-line luxury car in its day and was known for its smooth ride and spacious interior. Dita's car is finished in a classic color scheme and restored to its original condition. Her love of beautiful cars proves that anyone can love these mean machines.
Scott Caan's 1950's F-series Ford Pickup truck
Scott Caan is known for his love of vintage cars and trucks, and one of his prized possessions is a 1950s F-series Ford pickup truck. The truck is a classic and has been restored to its original condition.
It features a vintage look with a fresh paint job and has all the classic features of a vintage truck, including a wooden bed, chrome bumpers, and a bench seat. Caan is often seen cruising around in this truck.
Charlie Sheen's Cadillac
Charlie Sheen is yet another celeb who loves his vintage cars. The actor owns a vintage Cadillac, adorned with egg and bacon stickers on the sides, which many would argue is a strange stylistic choice. Sheen has an impressive car collection which has cost him a rumored $1 million over the years.
His cars include two Mercedez-Benz (reportedly his favorite car), Bentley, and Porsche Turbo. They're not all just for him, though. It turns out that the actor often buys people cars as gifts.