Roll Around
No, this isn't a roll of fluffy cake for you to chomp, but an actual roll cloud! Roll clouds are a rare type of arcus cloud that appears as low, horizontal, tube-shaped clouds detached from other cloud features. They roll about a horizontal axis like a solitary wave called a soliton.
The Morning Glory cloud in Queensland, Australia, is a famous example of this phenomenon. Coastal roll clouds have been observed worldwide, including California, the English Channel, and Brazil.
A Shelf of Magic
Who said clouds couldn't make a difference? These beautiful, mesmerizing clouds over this valley make it look like a path leading directly into The Shire.
This is a shelf cloud, a wedge-shaped arcus cloud attached to the base of a parent cloud, usually a thunderstorm. It may be mistaken for a wall cloud, as it appears as a wall made of clouds. It can turn any regular sight into one full of magic and possibilities.
Sinister Presence
If you can stand below a formation of Undulatus Asperatus, you'll know what it means to stand in the presence of sinister greatness. You can't look away but can't help the ominous shiver.
Undulatus Asperatus, which roughly translates to agitated waves, may look troubling but most often dissipate with no storm in sight. The Plains states of the United States frequently experience these, especially during midday or morning hours after convective thunderstorms.
A Night Time Experience
Behold, the magical Noctilucent clouds! These wispy formations, made of shimmering water ice crystals, are like the "ragged edge" of a much brighter and more pervasive polar cloud layer called polar mesospheric clouds. They shine bright in the deep twilight, a sight to behold in the summer months between latitudes 50° and 70° north and south of the equator.
Though discovered just in 1885, noctilucent clouds continue to dazzle us with their whimsical nature, leaving us enchanted and in awe of the wonders of the upper atmosphere.
A Sky Full of Pouches
If you ever look up and see that the sky is no longer a vast blue plain for as far as the eyes can see but instead a decorative ceiling of pouches, then you're probably witnessing a cloud phenomenon known as Mammatus.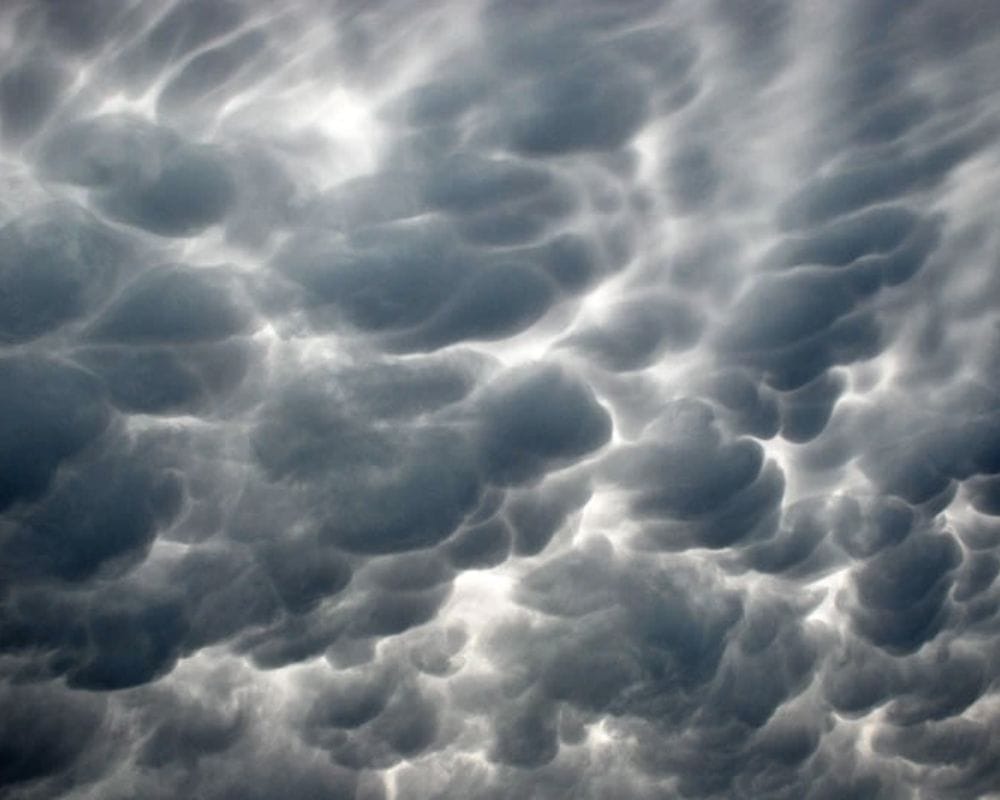 This term is used when cellular pouches hang underneath the clouds, making it look like a sea of pouches hanging from the sky. It's definitely a sight to behold.
A Cloudy Apocalypse
Have you seen the photo of a Fallstreak hole? It's like the beginning of a movie titled "Apocalypse: The Clouds!" But no, it's not a UFO sighting. This hole punch cloud, canal cloud, or cloud hole is a rare and unique worldwide phenomenon.
From the US to Asia, people are snapping photos of these marvels. So, the next time you see one, don't freak out — it's just a Fallstreak hole, not an alien phenomenon!
Waves of Clouds
When you look up and see wave clouds, it's hard not to feel a sense of wonder and amazement. These unusual cloud formations are created by internal atmospheric waves generated when stable air flows over a raised land feature.
As the air moves through the wave, it undergoes repeated uplift and descent, causing moisture to form clouds at the cooled crests. The result is a breathtaking display of clouded and clear bands that can stretch for miles across the sky.
A Medley of Colors
Gazing up at a photo of iridescent clouds is like staring at a work of art crafted by Mother Nature herself. The incredible display of colors in the clouds is reminiscent of the shimmering hues you might see in an oil film on a puddle.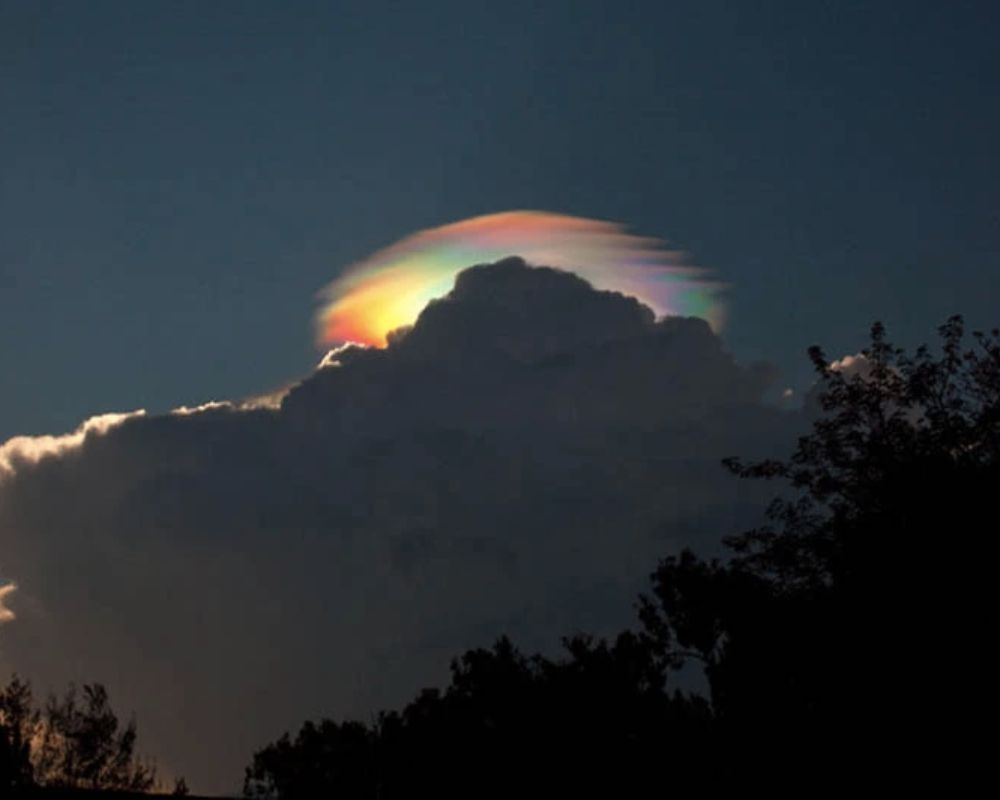 These stunning cloud formations are most commonly observed in Altocumulus, Cirrocumulus, and Lenticular clouds, but sometimes you might even spot them in cirrus clouds. While iridescence in clouds is rare, it's truly a breathtaking sight.
A Fiery Sky
Looking at a photo of pyrocumulus clouds is like staring at a scene from a disaster movie. These menacing clouds are associated with fire or volcanic activity and result from the intense heating of the air from the surface.
They're often called fire clouds because of their connection to wildfires, but they can also form during volcanic eruptions. The dynamics behind pyrocumulus clouds are similar to those of a firestorm, although they can occur independently of one another.
A Stairway to Heaven
Led Zeppelin may have sung about the "Stairway to Heaven", but wave window clouds look like the actual manifestation of the phrase. Wave windows clouds have long, wavy streaks that look like the sky is parting to make way for something great.
Wave window clouds are created by internal atmospheric waves, forming as stable air flows over a raised land feature like a mountain range. The result is a mesmerizing display of clouds inviting us to explore the unknown depths of the sky.
Big Snowflakes
Actinoform clouds are one of the most fascinating and captivating cloud formations. These clouds have a unique and intricate pattern that resembles a delicate snowflake or a star. They are formed by the convergence of cold and warm air masses, which create a distinctive circular pattern in the cloud.
The name "Actinoform" comes from the Greek word "actin," which means ray, and "form," which means shape. The result is a stunning cloud formation that looks like a work of art in the sky.
A Colorful Display
Polar stratospheric clouds, known as nacreous clouds, are a unique and otherworldly display from Mother Earth. These clouds are a rare and beautiful sight, usually only visible in polar regions during winter.
They are composed of tiny ice crystals that scatter sunlight, producing a stunning display of colors. The clouds appear iridescent, with hues ranging from pinks and oranges to blues and greens.
Pileus Clouds
Pileus clouds are a unique and often overlooked cloud formation. They form when a fast-moving air mass, such as a thunderstorm, rapidly rises and cools.
The result is a striking and almost surreal sight, with the cloud appearing like a cap or scarf (hence also being nicknamed cap or scarf clouds) atop the storm. Pileus clouds are rare and often fleeting, making them a unique and exciting view for those lucky enough to witness them.
Morning Glory
Morning Glory clouds are a rare and mysterious cloud formation in the skies above the Gulf of Carpentaria in Northern Australia. These clouds are long, tube-shaped, and can stretch for hundreds of miles, with their unusual shape often likened to a giant rolling pin or a huge wave.
Witnessing a Morning Glory cloud formation is a truly awe-inspiring experience that is highly sought after by weather enthusiasts and pilots alike.
A Mountain Hat
Mt. Fuji is a spectacular mountain in itself, needing no extra adornments. But this photo proves that sometimes a little goes a long way. This isn't the mountain wearing a hat but a unique and fascinating cloud formation.
The sight of a Lenticular cloud above Mt. Fuji, Japan, is truly stunning. In the case of Mt. Fuji, this creates an attractive base for the cloud to form around, making it look like the famous peak does indeed have a hat on.
Man vs. Wild
When Queensland, Australia, experienced the rare meteorological phenomenon of the Morning Glory. Hand gliding enthusiast Johny Durand found the perfect opportunity to show off some skills and get the perfect shot while doing it!
As the cloud rolled towards him, Durand took off with his hang glider, gliding along with the cloud, creating a stunning display of human flight alongside this natural wonder. It's a breathtaking moment as two different elements of the earth come together to form a truly unique experience.
The Suburban Storm
Who said that you can't see some stunning sights right from the window of your suburban house? Here's an example of some intense Mammatus action preceding the storm over a suburb of Montreal, adding to the drama of an approaching storm.
Mammatus clouds are a stunning sight, often associated with severe thunderstorms. These clouds form when sinking air pulls down moist air, creating distinctive shapes. The pockets of sinking air can also indicate the potential for severe weather, making them both beautiful and ominous.
An Antarctic Miracle
These clouds, aka Nacreous clouds, look like a surreal painting with their distinctive mother-of-pearl appearance. They were captured at the McMurdo Station, Antarctica. Nacreous clouds are a breathtakingly beautiful sight, shimmering in iridescent colors against the backdrop of an Antarctic sky.
They create a spectacular display that seems almost extraterrestrial, giving the feeling that you're standing on a different planet altogether.
The UFO
Ah, yes, the classic Lenticular cloud UFOs. Because nothing screams "extraterrestrial spacecraft" like a cloud formation. Who needs hard evidence when you have a whimsical cloud on which to base theories?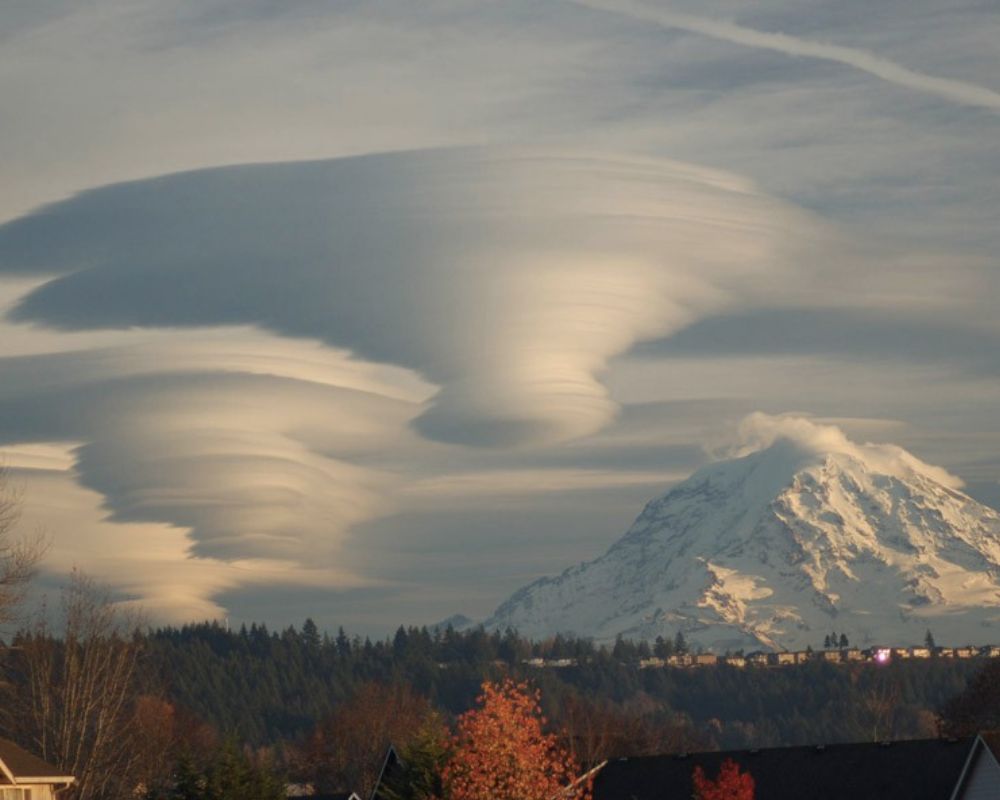 Apparently, they're more common around Mount Rainier, so clearly, aliens have a preference for scenic mountain ranges. Or maybe they're just cool-looking clouds that we should appreciate for their natural beauty.
Mountain Recall
Another classic Lenticular cloud, this time appearing in the Argentinean Patagonia. The aliens are going on a world tour and stopping by all the picturesque mountain ranges for a quick photo op. But wait, what's that? Is the cloud trying to communicate with the mountain?
Maybe it's saying, "Hey, come aboard my interstellar spaceship; we've got some incredible views up here." Or it's just a coincidental cloud formation causing people to see what they want.
Nature's Paintbrush
This isn't a close-up of Van Gogh's "Starry Night," but it might as well be. Behold, the Altocumulus cloud formation as seen from the International Space Station. It's like Mother Nature decided to put on her finest art exhibit for all of us to enjoy.
These cloudlets are no ordinary clouds. They form at 6,500 to 23,000 feet and are created by two regions of ocean air moving at different speeds. How amazing is that?!
Dream a Little Dream
The beauty of nature can be awe-inspiring, and nothing captures its power quite like the rare formation of Mammatus clouds. Caught in the dramatic hues of dusk light, this breathtaking sight above New York City in 2009 looks like a scene straight out of a movie.
The orange hues and the unique formation of these clouds give an almost surreal appearance, like something out of a dream. A simple moment like this can leave a lasting impression.
Too Good to Be True
Behold the surreal beauty of Noctilucent clouds captured over the Tibetan Plateau from the International Space Station. These super rare formations occur when water vapor freezes in the mesospheric layer of the atmosphere, creating a sight that looks almost too otherworldly to be real.
Illuminated by an obscured sun, these clouds glow with an otherworldly light, leaving us in awe of the majesty surrounding us daily.
On the Way to Oz
Feast your eyes on this Lenticular funnel cloud formation captured in Palm Springs, California, in April 2010. This cloud resembles a living, breathing beast hovering ominously over Southern California.
Its tornado-like shape is intimidating, but don't expect it to whisk you away to Oz. So buckle up and enjoy the ride because when it comes to weather, you never know what kind of adventure awaits.
A Duplicate Rainbow
This fog bow was captured in all its ethereal beauty outside Sydney, Australia. Like a rainbow, the fog bow is created by sunlight's reflection, refraction, and dispersion through tiny droplets of moisture. But unlike a rainbow, the droplets are much smaller, resulting in a faint and almost colorless appearance.
In this shot, the fog bow appears as a stunning, almost otherworldly white arc, a reminder of the incredible complexity and beauty that exists in the natural world.
Water Spout
This isn't just any ordinary storm cloud; it's a waterspout captured in all its glory off the coast of the Balearic Islands, Spain. A waterspout is a tornado that occurs over water without a supercell.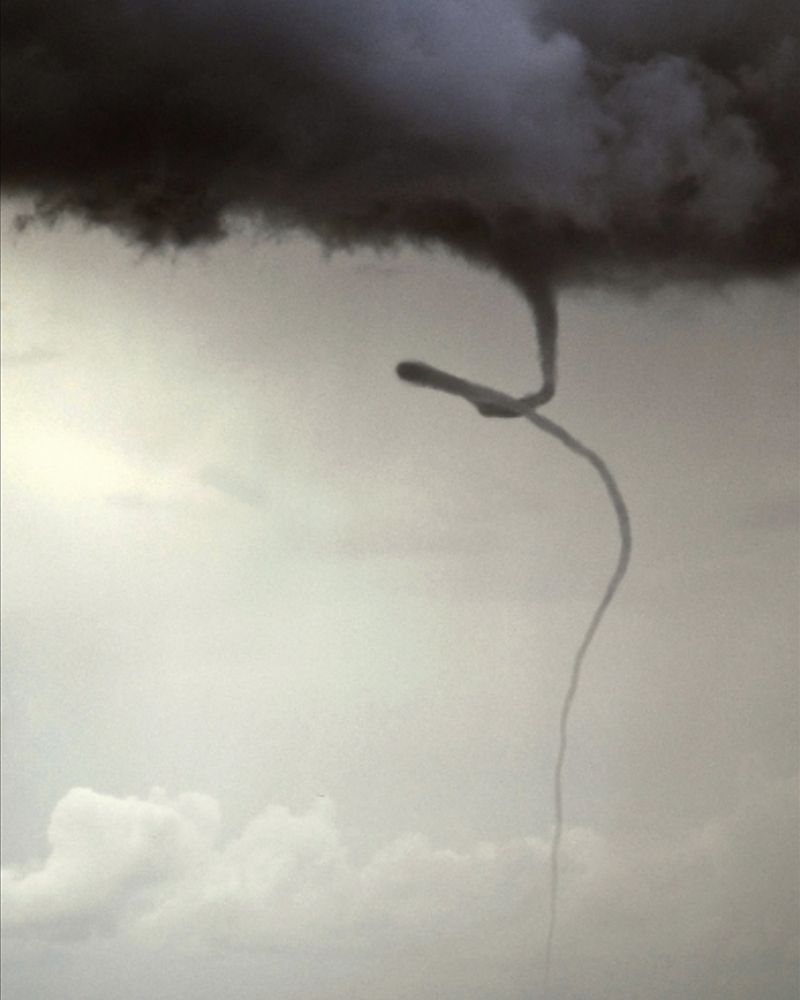 In this region, where the waters are some of the clearest in the world, the sight of a swirling vortex like this is truly awe-inspiring.
Storm Incoming
This stunning photo captures the intensity of a Mammatus storm in Norman, Oklahoma, with its distinctive Mammatocumulus formations hanging ominously in the sky. These unique cloud formations are often tied to storm activity, and in this shot, their rippled and bulbous shapes warn of the approaching storm.
Despite the difficulty in capturing such a dynamic moment, the photographer has managed to freeze the action with a one-second shutter speed, creating a mesmerizing image that reminds us of the incredible beauty all around.
Arcs of the Sky
Behold the fascinating Lenticular arcs of Seattle, a stunning display of cloud formations that never fail to captivate the imagination. These unique cloud formations are characterized by their elongated, lens-shaped structures and are a subcategory of the more prominent family of Lenticular clouds.
However, even within this subcategory, there is a remarkable degree of variety and nuance, as evidenced by the striking contrast between these Lenticular arcs and the mountaintop UFOs in other parts of the world.
Roll Across the Water
This isn't the dust left behind by a certain speedy cartoon bird. Instead, it is a stunning display of natural power and beauty that reminds us of the incredible forces that shape our world.
This roll cloud, captured in all its glory over Punta del Este, Uruguay, is a marvel of nature that never ceases to amaze. These rare formations, long and cylindrical in look, appear to "roll" as it moves across the sky.
Out of the Ocean
Stratus clouds are the ones that hover low to the ground, making everything seem just a little bit more eerie and mysterious. They're the clouds that turn into thick fog, causing us to slow down on the roads and be extra careful.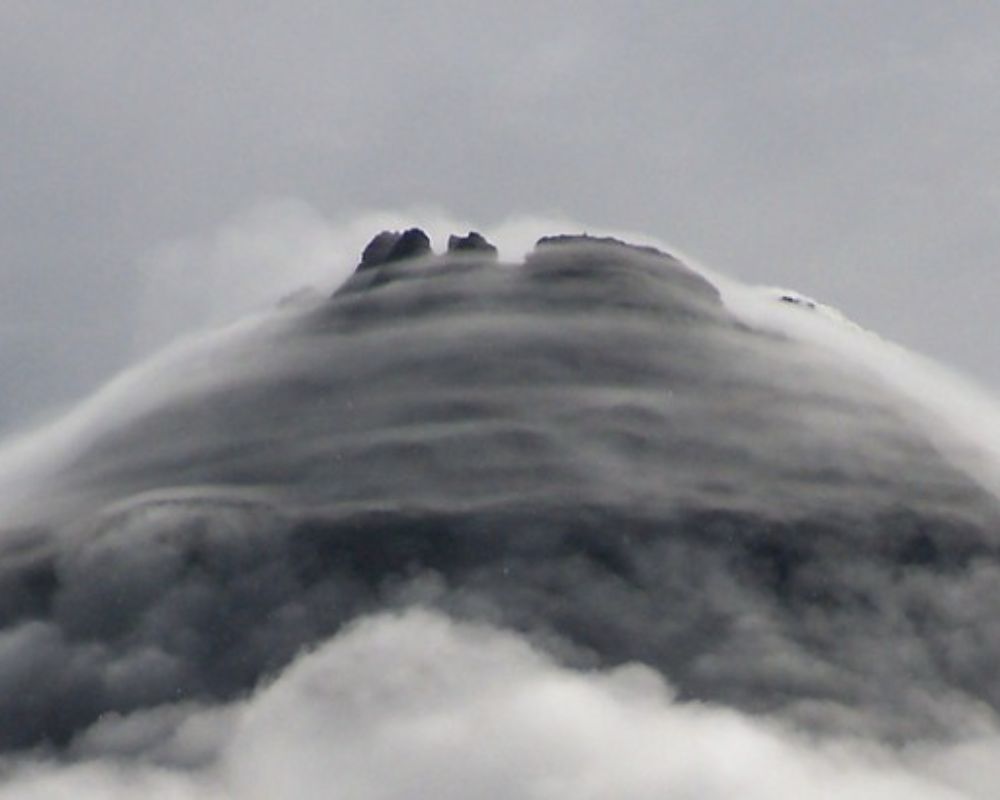 And in this photo, we can see them engulfing the Arenal Volcano in Costa Rica, making it seem like it's rising out of a sea of clouds.
A Magical Carpet Ride
The stunning display of colors in this photo of the Lenticular ribbon over Tararua Range, New Zealand, seems like a work of art by nature. With its vibrant hues blending seamlessly, it's hard not to get lost in this mesmerizing sight.
The Lenticular ribbon formation, aka the wave cloud, creates a striking contrast against the clear blue sky. It's easy to imagine that if we were to sail through these clouds, we'd feel like we were on a magic carpet ride, flying above the world below.
No Photos Please
Wall clouds are often associated with severe thunderstorms and tornadoes, so it's unsurprising that the photographer caught this woman trying to capture the moment. However, it's important to remember that safety should always come first.
Wall clouds are typically the result of a storm's updrafts and downdrafts interacting with each other, causing the cloud to rotate and potentially form a tornado. So, if you find yourself in the path of a wall cloud, it's best to seek shelter immediately and leave the photograph for another day.
The Fabric of Nature
The beauty of this photo lies in its complexity and texture. It's as if Mother Nature has painted a masterpiece on a canvas made of water and clouds. The swirls and lines create an intricate pattern, almost like a textured fabric.
The glories and vortices are mesmerizing and draw the viewer in with their soft colors and delicate shapes. It's hard to believe that the forces of nature could create something so intricate and beautiful.
Monster Approaching
The menacing appearance of this shelf cloud over a North Dakota farm is enough to make anyone run for cover. The seemingly endless expanse of the cloud, with its layered structure and ominous darkness, gives the impression of a monstrous creature slowly approaching.
However, this is just another stunning example of nature's incredible power and beauty. The immense scale and complexity of the shelf cloud are a reminder of the tremendous forces at work in our atmosphere.
Scribble it Out
In Seattle, where this photo was taken, this phenomenon is often associated with the city's notoriously turbulent weather patterns. The clouds seem to undulate and twist, defying gravity and giving the impression of movement even when perfectly still.
It's no wonder these clouds have captured the imaginations of photographers and weather enthusiasts alike, as they offer a glimpse into the intricate and often unpredictable workings of the natural world.
Superheroes Arise
The swirling colors in the photo of the Pileus cloud over Chitlapakkam, India, make for a stunning visual. It's almost as if a superhero is rising from the clouds with a cape of multi-colored swirls. However, the reality is much less dramatic but equally fascinating.
Pileus clouds are formed when moist, warm air rises rapidly and encounters a more relaxed layer, causing condensation. They're often seen on top of Cumulus clouds, indicating the potential for thunderstorms.
Lightning Behind
Arcus clouds, also known as shelf clouds, are a type of low-level cloud formation that typically form at the leading edge of thunderstorm outflows or cold fronts. In this photo taken in Australia, the layers of arcus clouds create a dramatic scene as they appear to be illuminated from behind by a lightning strike.
The partially hidden lightning in the photo adds to the ominous atmosphere, reminding us of the power and unpredictability of nature.
The Perfect Space Plane
This formation over Kananaskis Country, Alberta, looks like something straight out of a science fiction movie, with its perfectly round shape and smooth, curved edges.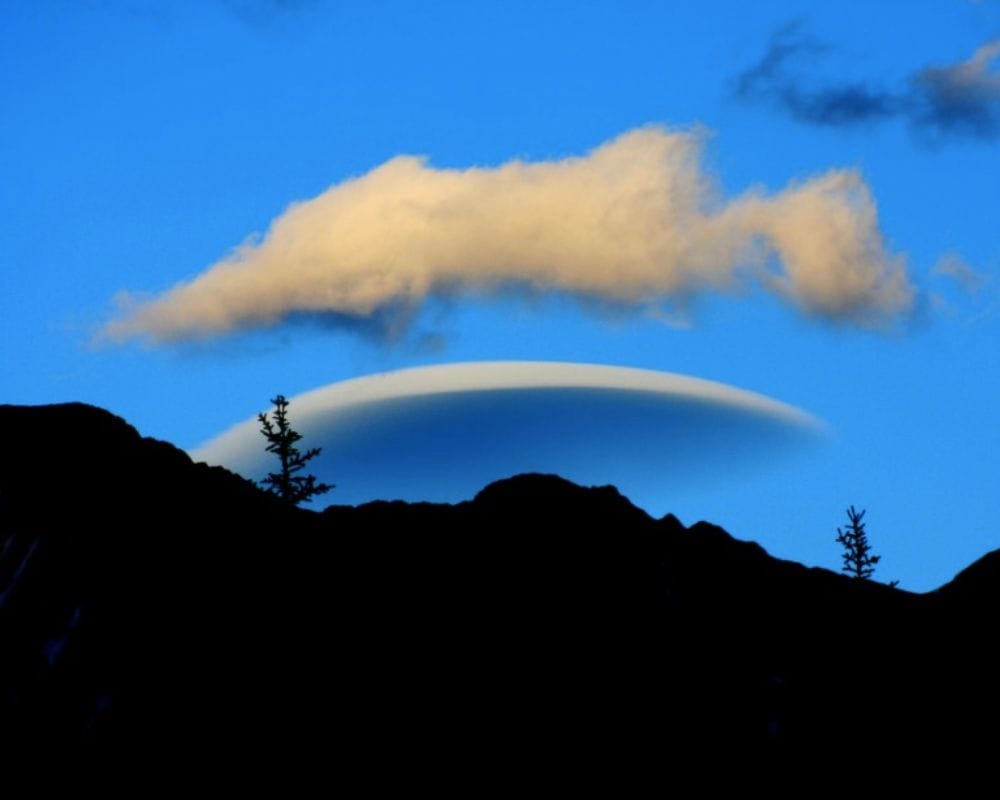 The layers of the cloud give it a sense of depth and dimension, almost as if it's hovering in the sky. It's a stunning sight to behold, and for all the theorists out there, it could be possible that this is where the Men in Black aliens come from.
A Suburban Shake Up
The towering Cumulonimbus cloud captured in this photo over Beverley, England, is a testament to the immense power of nature. These clouds are often associated with thunderstorms and can produce strong winds, lightning, and heavy rain.
While this particular cloud may not have been a supercell storm, it still commands attention with its imposing size and dramatic shape. It serves as a reminder that even in the quaint suburbs, one must always be prepared for the unpredictability of nature's wonders.
A Two-In-One Deal
The Lenticular roll cloud over Lake Tahoe, NV, was a sight. With its unique combination of features, it resembled a ribbon that was running down the sky. Its appearance was nothing short of surreal, almost like a cartoon coming to life where the sky seemed alive and moving in ways we had never seen before.
It was a fascinating phenomenon that left many people in awe, wondering what other surprises nature had for us.
A Tree Halo
This stunning halo over this tree isn't a rainbow with a pot of gold at the end but just a cloud formation. Cirrostratus Nebulosus is a cloud formation commonly found in Santa Catarina, Brazil.
It's characterized by its delicate and almost transparent appearance, making it difficult to spot unless illuminated by the sun at a particular angle. The cloud is made up of ice crystals that are so small they're almost weightless, giving it a feathery and ethereal appearance.
Upside-Down Pool
This photo looks like a pool of goldfish swimming in the sky, but it is the opposite – a sky full of clouds. This incredible display of nature's beauty reminds us of our intricate and awe-inspiring world.
Cloud iridescence is a spectacular natural phenomenon that occurs when light hits individual droplets of moisture in optically thin clouds, resulting in stunning rainbow-like colors across the sky.
Red Swirls
This photo is surreal enough to be sold as a painting at a gallery. The vortex cloud over Wallops Island, Virginia, is a stunning example of a natural phenomenon in various scenarios, such as tornadoes, hurricanes, and cyclones.
In this particular photo, the vortex is made visible through colored smoke in a NASA study on the wake vortices of aircraft. This fascinating phenomenon occurs when there is a difference in air pressure between two regions, causing a rotation of air masses.
Bad Day at the Beach
Oh boy, talk about a downer at the beach. You're just trying to catch some rays and ride some waves, and suddenly you see this ominous cloud formation rolling in. But wait, upon closer inspection; it's not a tidal wave; it's a shelf cloud.
Phew, crisis averted. Still, shelf clouds are slightly intimidating, looking like they're ready to sweep in and wreak havoc when they're just an incredible weather phenomenon caused by gust fronts.
The Outer Space Invasion
Lenticular clouds, or "flying saucer" clouds, are stationary and lens-shaped clouds that form at high altitudes. They come in different types, such as ACSL, SCSL, and CCSL, and have been mistaken as UFOs due to their shape.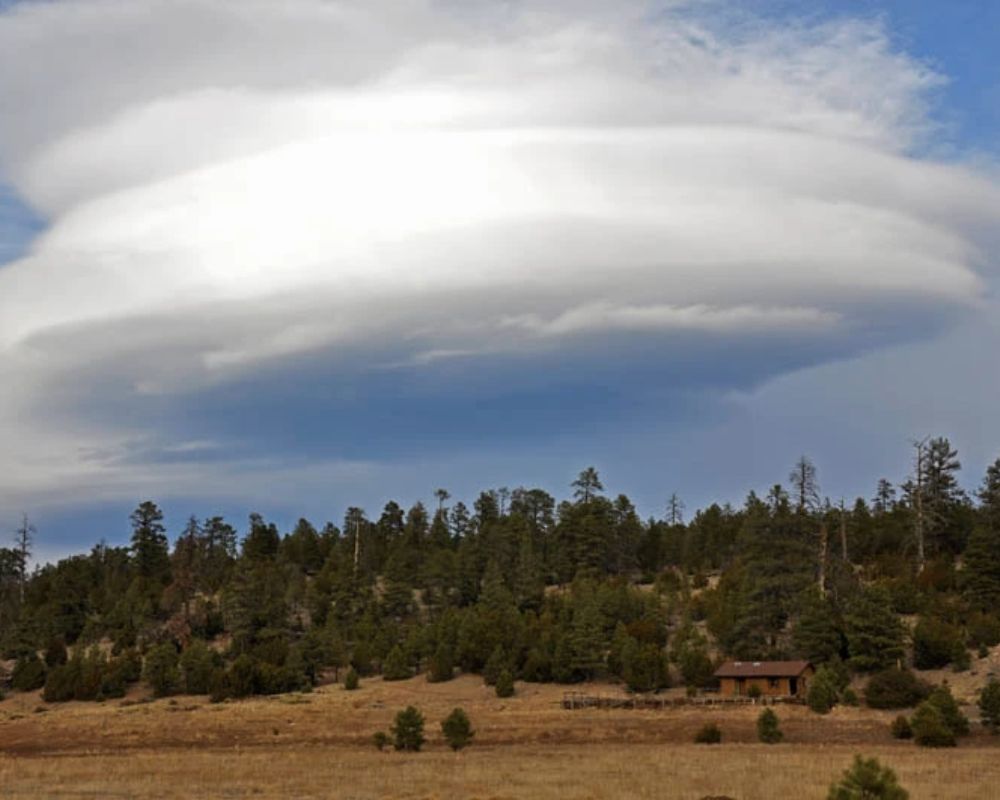 When moist air flows over mountains, standing waves may form on the downwind side, and if the temperature drops, Lenticular clouds may appear. It's like the mountains are creating their alien landing pads! But don't worry; it's just Mother Nature's way of showing off her artistic side.
30 Pics With Confusing Angles That Made Us Rub Our Eyes Again and Again
The Floating Head
The dog's head in this photograph looks as if it's floating in the air. The photograph is a bit hard and confusing to understand at the first instance – and looks as if the dog is performing some magic trick.
However, if you look at the shadow, you will get an understanding of how this photo was taken. Apparently, the image was taken when the dog was leaping over the grates. The photography angle makes his body and legs disappear and give the illusion we were talking about.
The Headless Commuter
What will you do if you see your co-passenger on the public transport seated like this? Before you say scream, hear us out! This seemingly headless person does have a head – and it's just the angle of the image which is making him appear this way.
The person is wearing a black hoodie – in fact, everything black from trousers, shoes to bags – while his head is resting on the side. This look, we feel, is very effective to prevent oneself from catching communicable infections of any kind.
The Girl With No Limbs?
The girl in this photograph looks as if she has no body, no hands, and no legs. This trick photograph was first shared by actress Claudia Sulewiski on her Instagram. The angle at which this image is taken makes it's difficult to comprehend.
But, we'll still attempt. The photographer must have taken this shot by asking Claudia to bend backward and telling her to place her legs on the table next to the chair.
The Plushy With Glossy Hair
No this plushy is neither wearing a wig nor has it put on some shampoo that makes hair grow on any animal soft toy – as much as we know. Well, it's just a clever image taken from an interesting angle.
Apparently the lustrous hair you see belongs to its human owner, who has grabbed the plushy tightly up to her face, thereby juxtaposing her face with that of plushy. The result is a photograph that looks equal parts confusing and mysterious.
Missing Limb?
The pink neon light in the photograph is the main culprit leading us to believe that the girl is missing an arm. The bright pink light and the pink décor leads our mind to believe that there is a negative space in place where the girl's arm should be.
However if you look at the shadow and the silhouette it makes, you will realize the difference in perspective and maybe figure out the missing hand from its outline in the shadow.
Baby's Biceps
And, we have got a tiny weightlifter! Look at this baby's muscular hands and biceps. It seems as if this toddler spends hours in the gym lifting weights. We also wonder what he must be eating to gain this much muscle mass at his age.
Well, the baby's bicep belongs to his dad who is holding him in a protective embrace. The angle of this picture merges the baby's hand and his dad's biceps making it look as if the entire hand belongs to the baby.
The Dog That Looked as if It Went to a Hair Salon
This dog is nailing his hair game. His Mickey Mouse like hairstyle is on point and takes his cuteness and playfulness notches further! The image does look like a perfect advertisement for a grooming parlor for pets.
Except it is not! The adorable doggo is sporting a 'ghost hairstyle' given to him by the clever angle of photography. On a closer inspection, you can see another dog in the background. The well-timed shot juxtaposes the second dog's body above the head of the first dog making it seem like a fancy hairstyle.
Two Individuals, One Soul
You must have heard of the romantic phrase "Two bodies, one soul." While that is a lovely phrase; this image literally makes us 'see' that in a new light. The image you see here makes you momentarily believe (c'mon, admit it!) that two individuals have become one – quite literally!
But, that's not the case! The person wearing a mauve shirt is hugging another individual from the back. Due to her posture, their faces look as if they have fused into one.
The Baby With Long Hand
In this picture, you can see a baby with an astonishingly long hand as he tries to pluck an apple from a tree. What's more baffling is that the baby is wearing a watch – and has well-manicured nails.
But, that's not the case. The hand belongs to her mother (or her loving aunt) who's holding the baby as she plucks a green apple probably to bake an apple pie. The baby is just staring at the entire process like how we were looking at this image.
A New Breed of Dog?
While as much as we like to believe that these dogs are somehow related to The Hounds of Baskerville (Sherlock Holmes fans, raise hands!); they are sadly not. In fact, they are two – and not one.
The angle in the photograph makes them appear as if this dog has two heads. However, let us assure you that they are two separate dogs who are sitting close to each other. The second dog remains hidden by the first dog's body, which gives an illusion of two heads on one body.
The Cat With an Opaque Head
Can you also see through this Persian cat's head? We can as her head looks some kind of a blur as she lazes comfortably on the bed. But what we see here is an optical illusion at its best made possible by a clever angle.
Two more things contribute to this illusion. First is the color of the bed sheet which matches the color of the cat's fur. Second is the color of fur near her neck region which makes her head look like a holographic projection from a distance.
The Hidden Building
This perspective shot looks like a camouflaged building that is made to reveal when it reflects light on a clear day. This so-called hidden high rise remains hidden owing to the materials used for its construction, which majorly, is the glass.
It's hidden effect is accentuated with the fact that the rest of the buildings in its vicinity are more or less constructed traditionally; thereby working in cohort towards keeping the secrecy of this high rise intact.
Cats & Their Ways
Cats confuse a lot of people with their behavior. Like how this cat is confusing us in this picture. The stairs in this image are not normal stairs and are ladder stairs. Apparently, the cat (which confused you and I) slid under one of these steps peeking through the space in between the steps.
If we meet this cat sometime we would say to him that he needs to calm down as he didn't climb down Mt. Everest. It was just ladder stairs, Mr. Cat!
The Camel With Missing Body
The camel in this image seems to have no body – and just the head, as he is seen sipping onto something from the hands of a dude, who's trying too hard to act cool, if you ask us.
Actually, the animal is slouched in a way that only his head appears in the frame while the rest of his body remains hidden. That said, we would also like to appeal that don't try to feed animals (especially like this) in a zoo/sanctuary. It can be potentially dangerous.
Is Your Coffee Possessed?
What's in your cup of coffee – Milk? Some sugar or stevia drops if you prefer? Coffee powder? Owl, maybe? Originally posted by Stuart Rutherford on Twitter, this post of 'owl in the coffee mug' became a viral image in no time.
Apparently, it was achieved by dropping two potato hula hoops into the cup of steaming coffee, which gave the appearance of an owl's eye. The froth did the rest of the work. We encourage you to try this. Who knows you might get the next viral shot!
The Magical Glass
We are so jealous looking at this image. Yes, our glass seems to only attract us, to be honest, for our daily fix of beverage (Hello, stress!).
This glass in the photograph has managed to attract some usual suspects (read ants) and an unusual suspect (helicopter). Both the objects can be seen near the rim of the glass as if they are conversing with each other about how tasty the drink was!
The Girl With a Horn
No, this image is not a still from a horror movie or from the beloved show (at least mine) The Addams Family. Though it strongly looks like one, thanks to the photographer and the clever (and confusing) angle it was shot at.
The symmetry in this image is simply commendable as the girl stands in such a way that the parting of her hair seamlessly blends with the parting of the landscape, making it seem as if she is sporting a horn.
The Eye of the Sink
Human mind is known to see patterns in the places where they don't even exist in reality. This photograph is a beautiful example of the fact we just stated above. This image confused artificial intelligence too, as it started showing results on the blocked tear duct and eye-related articles.
Well, this image has anything remotely to do with the human eye. It is an image of water that is been draining from a kitchen sink.
Faux Caterpillar
Do avian caterpillars exist? This image will coax you to believe in their existence. However, the fact is that they don't exist in reality. In imagination or at least in this image, they do.
Coming to the photograph, it looks as if some colorful caterpillar is crawling at its pace over a slender branch of a tree. However, it is birds that are playing with our perception. A flock of birds is sitting close to each other to give an illusion of a crawling caterpillar.
The New Olympic Logo
While we are reeling under the fact that the Olympics ended, did you by any chance read about the logo change from their next edition onwards? If you haven't, we have an exclusive image of their new logo. Take a look at it below.
Ok so now that you fell for it, let us tell you that no such thing is happening and the image you see here is a well-timed shot with the moon in the frame resembling like one of the rings from the Olympic logo.
New Flavor of Ice Cream
Did you hear about the hottest icecream of the month? It's called Cloud 9. It's creamy white in color, looks like cotton candy, and tastes amazing. And, it has its own hashtag on Instagram.
Before you open up Instagram, let us tell you that there is no such flavor we know of. The photograph that you see here is a shot of a child holding an empty cone above a wafting cloud. To make it more believable, the child is seen licking the cloud as if it were a scoop of icecream.
The Ballerina Doggo
This ambitious doggo nurses Broadway plans and aspires to become the biggest ballerina the world has ever seen. And, she has all the encouragement we can muster from our side.
This was what we felt when we first looked at this photograph. The cleverly shot photograph places doggo's head over the newspaper ad of a ballet performance making it look as if doggo is the Prima Ballerina. We don't mind that scenario!
When a Statue Messes With You!
We have seen people messing up statues (for example: dirtying them with their personal litter) countless times, but for the first time, we have come across an example of a statue messing with the person as evident in the photograph.
The sitting statue is trying to size up one woman's head as she takes a stroll in the park- absolutely unaware of the things folding behind her back. Maybe the statue is trying to get back to people who have a habit of littering in public.
An Unexpected Visit From a Mythological Creature
Mythology is filled with the fascinating tales of creatures such as centaurs, mermaids and more. What if these creatures that largely exist in our figment of imagination decided to pay us a visit on an achingly regular day?
Well, this photographer seems to have met one such creature or 'invented' one by employing clever angle. The result was an effect formed by the joint effort of a deer and a bird in the background that happened to spread her wings at the exact moment.
The Flying Carpet
Aladdin's flying carpet was the original hoverboard to be ever invented. A hoverboard, for those who don't know, gives an illusion of levitation. As per this image, the woman is seen to be levitating without being on a visible hoverboard.
However, it is just an illusion. The woman is addressing the crowd from the sandy ground. The shadow of the fluttering flag that falls just beneath her podium makes you think that she is giving her speech on air.
Painting the Sky
This image makes us believe as if the painter is painting the sky – and doing an awesome job of it. However, it is the other way around. The painter is painting the white billboard – in the exact color of the sky that day.
The painted portion of the billboard is thus blending with the color of the sky –making it difficult to map out the area where the frame of the billboard ends and the sky begins.
The Hungry Cat
Cats like to puzzle their humans through their actions. And, this is what this cat has set out to do. Looking at this 3D image feels as if the cat is staring at us through the main packaging while trying to hold the packet with one of her paws.
However, it's not some photo booth-like thing happening over here. The cat is plain hungry and stuck its head into the contents of the package. The face you see is the printed image of a different cat who has modeled for this brand of cat's food.
The Photobomber Fish
This photograph looks as if some different kind of merman (the one with a fish face and the human body; sorry to ruin the image of mermaids for you!) is swimming with the swarms of fish to keep him company.
But it just the case of an enthusiastic photobomber fish who came in the way of this swimmer while he was being photographed. Guess, the fish was attracted to bright lights or maybe wanted to be photographed. Don't we all know one such friend?
Hanging Moon on the Sky
Traveling makes you see the world in a completely new light. The change of sceneries changes the perspectives of an individual on how they view certain things: be it tangible or intangible. Take this photograph, for instance.
While one can see pink-hued snowcapped mountains at a distance (which, by the way, is not the highlight of this picture); they can also see an engineering crane that seems to be hanging the moon to its everyday spot.